Exhibition themed 'The education super highway to your world

of Aspirations'
Aspirations Education (AE) being one of the leading international education, career guidance and student placement service centres in the country, announced the launch of its global education exhibition for the ninth consecutive year. This year's exhibition will take place from 11 to 12 July at Hilton, Colombo, from 9 a.m. to 6 p.m.

Themed 'The education super highway to your world of Aspirations', the exhibition promises to feature over 25 reputed international universities and institutes across Australia, US, UK, Singapore and Malaysia making it the biggest international education exhibition in Sri Lanka.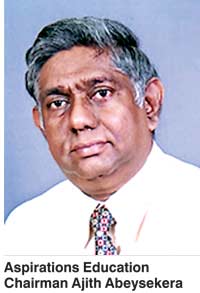 Speaking about the event concept this year, Aspirations Education Chairman Ajith Abeysekera advised, "When you step in to Aspirations, it opens up your highway to realise your world of aspirations. This year like all the years when parents and students visit the Aspirations Education Exhibition, you will have the opportunity to meet, speak and engage with a plethora of study opportunities available for your children. It is an oasis for each individual to carve out, create your own path that would help you better your future.

Adding further, "In the Aspirations Super Highway you get the chance to broaden your child's future options, not getting misled or diverted. We clear your doubts and your child's future path through our super highway concept. This has been one of the many factors that clearly differentiates our organisation over the past 11 years.'

Aspirations Education Managing Director Deepamala Abeysekera said, "The exhibition provides all participants the opportunity to weigh your options while you have your target. You don't necessarily need to go to one place initially; the idea is to speed to the fullest distance, in this instance, to your target with the minimum resources, to realise the optimum with the minimum resources which is why it's significant for you to chart out your path."

Aspirations Education International Exhibition opens vistas for Sri Lankan students to gain first hand information about quality international education through the participation of prominent universities and institutes. Students and parents of all walks of life have the opportunity to experience a diverse range of study opportunities and interact with international representatives and explore a variety of options available in different countries absolutely free of charge.

Most importantly the exhibition offers the opportunity for parents to plan well ahead what is best for their children in keeping with their financial resources in order to obtain the full value for the funds they spend on their children's higher education.

"I wish to request from the parents and students to visit the exhibition open minded, not sticking to only one option or a pre-consumed idea. If you get discouraged you would not need to worry as the Aspirations Education highway will allow you to roam around the world of opportunities and help you decide what's best for your future," ended Abeysekera.

Furthermore the exhibition offers a special station on science and medical studies this year. Aspirations Education together with the visiting universities IMU and Melaka Manipal Medical College will be conducting medical seminars and knowledge sharing sessions.

The exhibition this time will feature entrance scholarships, spot admission waivers, including the 'Application Week' where application fees will be waived off for students applying during the exhibition week and much more. Students are encouraged to pre register online through the Aspirations Facebook link: https://www.facebook.com/aspirationseducation/app_684336108254110 to be eligible for the above mentioned offers.

The Aspirations Education Foundation, the social duty arm of the Aspiration Education will also open to the public offering an opportunity for each visitor to engage in a deserving cause of providing scholarships and support for the education of the less privileged children and communities in Sri Lanka.