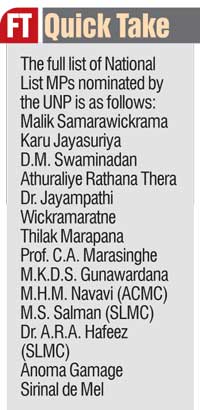 The United National Party which won 106 seats in Monday's election to become the largest party in Parliament named its 13
National List nominees and submitted the list to Elections Commissioner Mahinda Deshapriya yesterday.

Prime Minister Ranil Wickremesinghe has upheld a promise to refrain from appointing defeated party candidates on the UNP National List. However, defeated All Ceylon Muslim Congress candidate from Puttalam M.H.M. Navavi has been included in the list of nominees.



The Sri Lanka Muslim Congress has also been granted two nominees on the UNP National List – Dr. A.R.A. Hafeez and M.S. Salman.

The list includes former Party Chairman Malik Samarawickrema, Leadership Council Chairman Karu Jayasuriya, JHU Chairman Athuraliye Rathana Thero and M.K.D.S. Gunewaradane who joined the UNFGG ahead of the polls.

Former Resettlement Minister D.M. Swaminathan has also been included in the list. Former Defence Minister in the 2001-04 UNF Government Tilak Marapana, who also served as Attorney General has also been accommodated.

Senior Constitutional Lawyer, former Constitutional Affairs Advisor to President Maithripala and LSSP member Sirisena Dr. Jayampathy Wickramaratne has also been included in the UNP National List.