The latest edition of leading business magazine LMD reports that the LMD-Nielsen Business Confidence Index (BCI) moved up by five basis points (to 117) in April. However, the index remains lower than both its 12-month (132) and all-time (130) averages, and way short of where it stood (154) a year ago.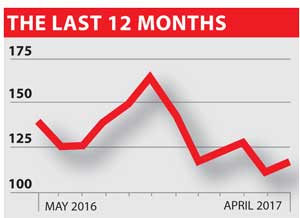 Nielsen's Managing Director Sharang Pant states in the magazine that "respondents' marginally more positive sentiment on the economy could be an early indicator of growing trust in Government policies among the business community and how they are readjusting their plans accordingly."

In addition, he points out: "With positive outcomes expected for GSP+ and other trade treaties, confidence in the investment climate is improving marginally."

Pant recommends that "with the… country still reeling from drought conditions, this is a critical time for businesses and consumers to wear out the difficult conditions, and take a long-term perspective on the economy, business climate and consumption growth."

The exclusive monthly survey reveals that more than a third of the sample population expect the economy to be worse off in the coming 12 months, while 28% of respondents are optimistic about the direction of the country's economy.

Where business prospects are concerned, LMD notes that nearly four-in-10 corporates (up from 29% in March) spoken to by Nielsen expect business to 'get better' in the 12 months ahead although the majority (47%) believe that sales volumes will 'stay the same as now.'

Looking ahead, a spokesperson for LMD states: "Perhaps due to an ever-so-slight sense of optimism going into the festive season, businesspeople delivered a mildly positive verdict in the first week of April."

"With the powers that be facing increasingly damning setbacks such as the tragic collapse of a garbage dump that was left to reach for the skies in the weeks that followed however, it is unlikely that we will witness any buoyancy in business sentiment in the near term," he adds.

LMD's publisher Media Services says the May edition of the magazine is now available in bookstores and supermarkets. For the full BCI report, go to www.LMD.lk.