By Charumini de Silva

Sri Lanka's tourism has taken off to a healthy start in 2018 with January bringing in record arrivals.

According to data released by the Sri Lanka Tourism Development Authority (SLTDA) yesterday, tourist arrivals in January amounted to a record 246,972, up by 12.6% from 219,306 in the corresponding month of 2017. In 2016, arrivals in January amounted to 194,208.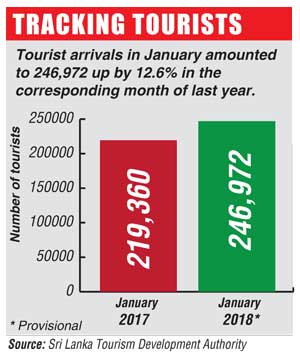 India continues to lead arrival figures with 43,643 up 40%. Arrivals from China stand second at 24,819 but were down 22%, whilst arrivals from UK were up 15% to 22,410. German tourists rose by 20% to 14,985 and those from France rose by 14.5% to 12,209.

Tourists from Western Europe increased by 14.9% to 83,324 in January.

Travellers from East Asia were down 15% to 41,462.

Eastern Europe tourist arrivals rose 15.1% to 30,550 in January where Russia continues to lead arrival figures with 11,634 up by 12.5%.

Arrivals from the Middle East rose by 25% to 11,200 and South Asia by 32% to 54,815 and Australasia by 23% to 11,011.

The Government is sticking to the 2.5 million tourist arrivals target which was set for last year, as the industry fell short of the arrival target in 2017.

Tourist arrivals in 2017 hit a record high with the number of foreign visitors rising 3.2% to 2.1 million while revenue also rose by a similar percentage to an all-time peak of $3.63 billion.

"With first four months being the season for us, I am pretty confident that we will do well this year. We will comfortably surpass the 2.5 million arrival target set for 2018," Tourism Development Minister John Amaratunga told the Daily FT.