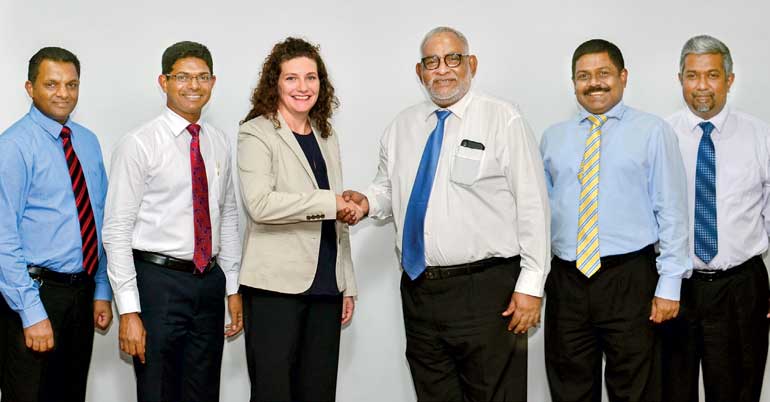 From left: Microsoft Sri Lanka and Maldives Head of Financial Services Aruna Indrajith Perera, Microsoft Sri Lanka and Maldives Country Manager Hasitha Abeywardena, Microsoft Asia Pacific Southeast Asia New Markets General Manager Michelle Simmons, Commercial Bank MD/CEO Jegan Durairatnam, Commercial Bank COO/Executive Director S. Renganathan, and Commercial Bank AGM – IT Krishan Gamage
Commercial Bank of Ceylon PLC, the largest private-sector bank in Sri Lanka has chosen Office 365, the cloud powered productivity solution from Microsoft, to improve communication and collaboration among its workforce, addressing the bank's vision of supporting a digital culture change and engaging with customers.

"Financial services looking for a competitive advantage will need to leverage emerging technology to thrive in the digital economy," said Microsoft Sri Lanka and the Maldives Country Manager Hasitha Abeywardena.

"Commercial Bank is taking a very strategic approach to technology, looking at it as a means to drive change and open up new business opportunities. With Office 365, the bank will be able to harness the intelligent cloud and benefit from Microsoft's investments in security, trust and regulatory compliance. Microsoft has always been a partner-led company. As Commercial Bank looks to embark on its digital transformation journey, our partner N*Ablewill play an important rolein being the bank'stechnology advisor and enabler."

Commercial Bank will take advantage of the Microsoft Cloud for business transformation. Microsoft Office 365 will provide modern, cloud-based productivity and collaboration tools, such as Exchange, SharePoint, Yammer, Power BI and Skype for Business to many of the bank's 4,987 employees, while Azure Active Directory will give them an all-inclusive cloud-based directory and identity management service.

"Modernising our technology infrastructure will enable current and future growth across all our lines of business," said Commercial BankChief Operating Officer/Executive Director Sivakrishnarajah Renganathan.

"Our partnership with Microsoft aligns to our target of utilising cutting-edge technology and focusing continuously on productivity improvement to further establish Commercial Bank as the digital leader for financial services."

Commercial Bank will reap the benefits from this digital transformation in three phases; making itself agile by rapidly upgrading to cloud-based technology, focusing on user adoption by identifying use cases based on work profiles, and transforming business by process alignment with the new tools, all of which together will ultimately enhance, both, branch and customer experience.

Microsoft is committed to fuel the digital transformation of the FSI sector with the best-in-class cloud services like Office 365, that are not only efficient as a productivity solution but are also highly robust, secure and scalable.

In 2017, the technology giant released its 2016 Annual Report citing strong cloud adoption from the financial services industry, with more than 80% of the world's largest banks and more than 75% of the global systemically important financial institutions using Azure.