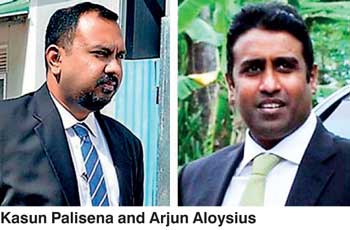 The Attorney General has objected to the bail application filed by Perpetual Treasuries Ltd (PTL) Former Director Arjun Aloysius and CEO Kasun Palisena, who are in remand custody over the bond scam charges.

The Attorney General's Department yesterday filed written submission at Colombo Fort Magistrate's Court against granting bail to Aloysius and Palisena.

The Attorney General has stated in his submission that the suspects are being charged under the Public Property Act and court has no authority to grant bail without any particular reason. Considering the submissions, Colombo Fort Magistrate Lanka Jayaratne has ordered the bail application to be taken on 16 February. The Colombo Fort Magistrate ordered the two suspects, who were arrested in connection with the Central Bank bonds scam, to be remanded till 16 February.