---
Conceptual paper under development for consolidated supervision from 2025
Proposes stronger penalties to give teeth to new Act
Oversight to be determined by risk factors of individual institutions
By Charumini de Silva
In 2020, the Central Bank expects to have a new Banking Act implemented, while also looking at consolidated supervision to be kicked off in 2025 as part of a fresh five-year plan to smoothen operations between finance companies and the banking sector, a top official said.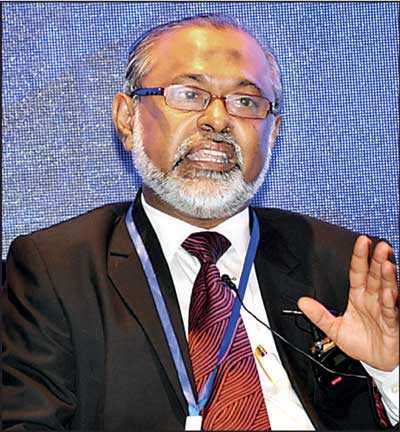 Central Bank Director, Banking Supervision A. A. M. Thassim – Pic by Lasantha Kumara




"We are planning to finalise the new Banking Act in 2019 and implement it from 2020. Consolidated supervision is something that the Central Bank will look at on a five-year horizon, with the conceptual paper now being developed. We hope it will be ready by 2025," Central Bank Director – Banking Supervision Department A. A. M. Thassim said, addressing the audience at the Compliance Symposium 2018, organised by Association of Compliance Officers of Banks Sri Lanka (ACOB), recently.

He believes the severe penalties underlined will really give teeth to the new Banking Act as well as the Central Bank to monitor and take swift action against those violating regulations.

"We were only barking all this time. We have been writing on a continuous basis on violation of regulations and repeated concerns for a number of years. With the implementation of the new Banking Act, those things will not be tolerated and we will start to bite you. All this time, it was just written notice, but with the new Act, there will be monetary penalties," he added.

The official pointed out that India's laws have the capacity to hand out large monetary penalties to a bank for non-classification. Similar regulations are expected to be implemented in Sri Lanka in 2020.

Thassim said in terms of consolidated supervision, the Central Bank will be monitoring all financial subsidiaries, mergers and acquisitions, differentiated licences, and risk-based supervisions.

According to him, the conceptual paper, which is being developed, will look at tiered banking, where difference between finance companies and the banking sector will be wiped out, and it will be an Act for all financial institutions.

"My examination cycle will differ based on a financial institution's risk profile and allocation of resources based on your risk profile. Some of you may have to face supervision once a year, some twice a year and some may be biannually. So, depending on the risk profile, we will be coming to you," he said.