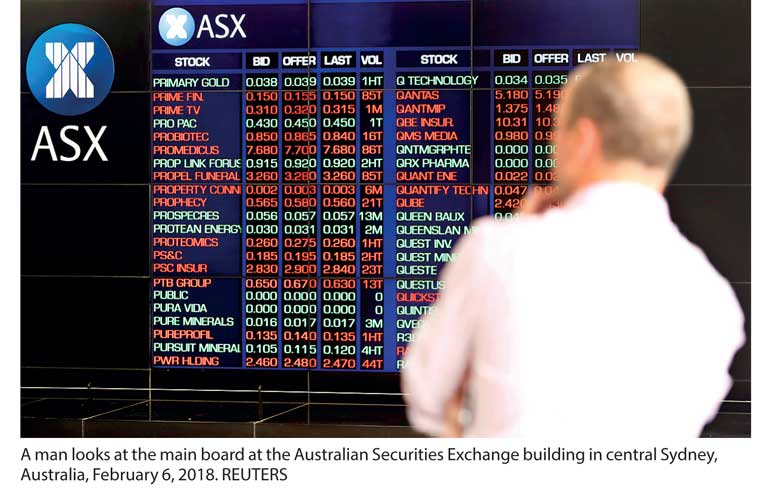 TOKYO (Reuters): A rout in global equities deepened in Asia on Tuesday as inflation worries gripped financial markets, sending US stock futures sinking further into the red after Wall Street suffered its biggest decline since 2011.

S&P mini futures fell as much as 3.0% to four-month lows, extending their losses from the record peak hit just over a week ago to 12%, abruptly ending their smooth bull run of recent years. They last stood down 1.1%.

The US benchmark S&P 500 slumped 4.1% and the Dow 4.6% on Monday, suffering their biggest percentage drops since August 2011.

Before Monday's fall, the index had not seen a pullback of more than 5% for more than 400 sessions, which analysts said was the longest such streak in history.

"Since last autumn, investors had been betting on the goldilocks economy – solid economic expansion, improving corporate earnings and stable inflation. But the tide seems to have changed," said Norihiro Fujito, senior investment strategist at Mitsubishi UFJ Morgan Stanley Securities.

The gloom is seen enveloping European shares, with spread-betters expecting Germany's Dax to sink 6.6% to five-month lows, France's Cac 6.1% to possibly 11-month lows and Britain's FTSE 4.8% to 14-month lows.

In Asia, MSCI's broadest index of Asia-Pacific shares outside Japan slid 3.4%. Taiwan shares lost 5.0%, its biggest since in 2011 and Hong Kong's Hang Seng Index dropped 4.2%.

Japan's Nikkei dived 4.7%, its worst fall since November 2016, to four-month lows.

The trigger for the sell-off was a sharp rise in US bond yields following Friday's data that showed US wages increasing at the fastest pace since 2009, raising the alarm about higher inflation and with it potentially higher interest rates.

That could be painful for markets that have been propped up by central banks' stimulus for many years.

Some analysts also say markets tend to get edgy when the US Federal Reserve has a new leadership.

The new Fed chief Jerome Powell, who succeeded Janet Yellen this month, is expected to continue Yellen's stance of gradual tightening. Still, some investors regard a change in the Fed leadership as a source of policy uncertainty.

The 10-year US Treasuries yield rose to as high as 2.885% on Monday, its highest in four years and 47 basis points above the 2.411% seen at the end of 2017.

But a massive fall in share prices prompted an about-turn, and in Asian trade on Tuesday, it fell back to as low as 2.662%.

Fed fund futures are now pricing in only two rate hikes this year, a sea change from only a few days ago when they priced in about 80% chance of three increases with the market even rife with talk of four hikes.

The CBOE Volatility index, the closely followed "fear-index" measure of expected near-term stock market volatility jumped 20 points to 30.71, its highest since August 2015.

That left some popular exchange-traded products that investors use to benefit from calm market conditions facing potential liquidation.

"There is weakness across various equity sectors, but none so large the market is likely to fall through them. My money remains on equities – but rotating (and buying on weakness) into 'value' areas of the market that have lagged in the recent momentum-driven rally," said James Bateman, chief investment officer for multi asset at Fidelity International.

"I'd also be avoiding stocks where dividend yields aren't backed up by strong free cash flow and a solid balance sheet," he added.

But Yoshinori Shigemi, market strategist at JPMorgan Asset Management, said the spectre of inflation will gradually undermine the attraction of equities even though the markets could rebound in the short term.

"In the end, the Fed will have to hike rates. And if it doesn't, long-dated bonds will be sold off on worries about inflation. Either way, that is going to slow down the economy. Rising wages also mean corporate profit margins will be squeezed gradually down the road," he said.

Keen to avoid further risk, investors are closing their positions in other assets, including the currency market where a popular strategy has been to sell the dollar against the euro and other currencies seen as benefiting from higher interest rates in the future. The euro eased to $1.2371, not far from last week's low of $1.2335, a break of which could usher in a further correction after its rally to a 3-year high of $1.2538 late last month.

Against the yen, which is often used as a safe-haven currency because of Japan's solid current account surplus, the dollar slipped 0.2% to 108.86 yen, after having lost one% on Monday.

Bitcoin was not spared from the selling either, falling more than 10% to a 12-week low of $6,116. That represented a 69% fall from its record high of $19,666, touched on Dec. 17.

Investors also dumped junk bonds, with the yield of Merrill Lynch US high yield index rising to 6.017% from 5.964% at the end of last week.

Still, it was far below its 2016 peak just above 10%, when low oil prices hurt energy firms.