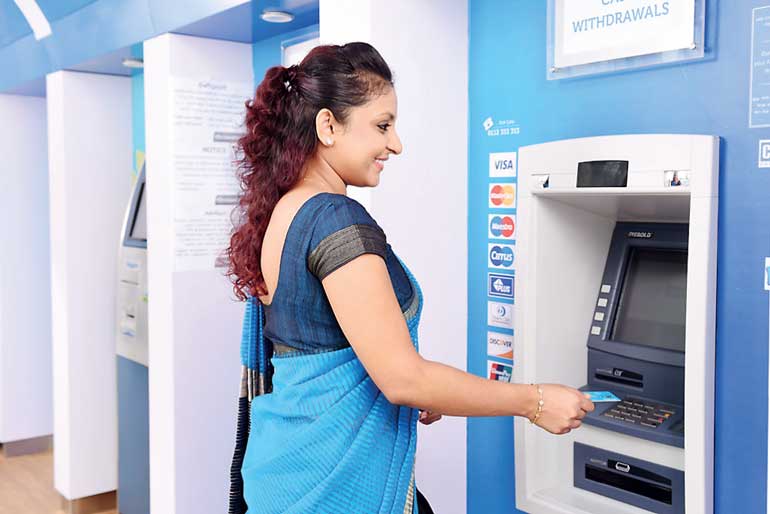 750 ATMs dispense Rs 50.769 b via 8 million transactions as Sri Lankans celebratedthe festive season
The Commercial Bank of Ceylon had dispensed an astounding Rs 50.769 billion in cash through its automated teller machines (ATMs) in December 2017, setting a new record and achieving an important milestone in such disbursements.

The 750-terminal network processed more than eight million withdrawal requests over the 31 days of the month at an average of over 258,000 transactions a day, emphatically reaffirming its reliability, the Bank said.

As the country prepared to celebrate Christmas and the dawn of the New Year, transactions peaked on the 22nd December (Rs 2.372 billion), 29th December (Rs 2.167 billion) and 8th December (Rs 2.154 billion), totalling Rs 6.693 billion on those three days alone, with the network processing more than 911,000 requests for cash.

On 10 of the 31 days of the month, Commercial Bank ATMs dispensed more than Rs 1.75 billion per day, and on 23 days withdrawals exceeded Rs 1.5 billion a day, the Bank disclosed.

However, the record for cash dispensed in a single dayon the Bank's ATM network still stands at Rs 2.79 billion, set on 7th April 2017.

The only Sri Lankan bank to be ranked among the Top 1000 banks of the world for seven years consecutively, Commercial Bank operates a network of 261 branches and 756 ATMs in Sri Lanka. The Bank has won more than 30 international and local awards in 2016 and 2017 and has over the years received multiple awards as Sri Lanka's Best Bank, Best Trade Bank, Strongest Bank and Most Respected Bank from a number of local and international institutions and publications.

Commercial Bank's overseas operations encompass Bangladesh, where the Bank operates 19 outlets, Myanmar, where it has a Representative Office in Yangon, the Maldives, where the Bank has a fully-fledged Tier I Bank with a majority stake and Italy, where the Bank operates its own money transfer service.