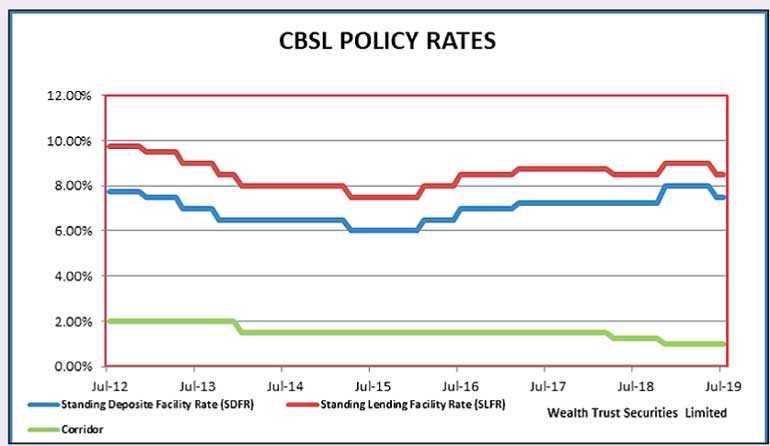 ---
Secondary market bond yields seesaw
By Wealth Trust Securities

The Central Bank of Sri Lanka was seen holding its policy rates or its Standing Deposit Facility Rate (SDFR) and Standing Lending Facility Rate (SLFR) steady at 7.50% and 8.50% respectively at its announcement yesterday.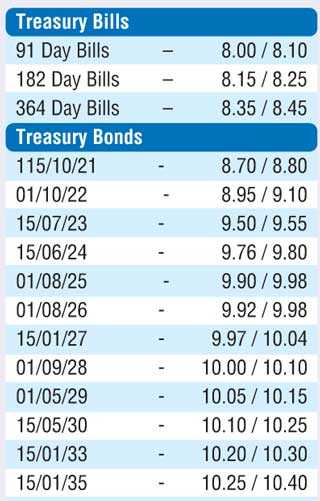 The activity in the secondary bond market remained high yesterday with yields declining across its curve during morning hours of trading and increasing during the latter part of the day, subsequent to the monitory policy announcement. Yields on the short dated maturities of 2021's (01.08.21, 15.10.21 & 15.12.21), 2023's (15.05.23, 15.07.23 & 01.09.23), 2024's (15.03.24 & 15.06.24), were seen changing hands at levels of 8.70% to 8.75%, 8.75% to 8.90%, 8.65% to 8.78%, 9.50%, 9.48% to 9.53%, 9.60%, 9.70% to 9.75% and 9.70% to 9.78% respectively while the medium term maturities of 01.08.26, 15.01.27, 01.09.28 and 01.05.29 were seen changing hands at levels of 9.93% to 10.03%, 9.98% to 10.05%, 10.05% to 10.10% and 10.05% to 10.15% as well. On the long end, the 15.05.30 maturity changed hands at 10.20% to 10.22%.

The total secondary market Treasury bond/bill transacted volumes for 10 July was Rs. 17.49 billion.

In money markets, the OMO (Open Market Operations) Department of the Central Bank of Sri Lanka was seen draining out an amount of Rs.12.91 billion by way of an overnight repo auction at weighted average rate of 7.77% as the overnight net liquidity surplus stood at Rs. 25.98 billion. The overnight call money and repo rates averaged 7.79% and 7.85% respectively.
Rupee continues to gain
The USD/LKR rate on the active spot contract continued to appreciate yesterday to close the day at Rs. 175.35/40 against its previous day's closing of Rs. 175.55/65 on the back of export conversions and selling interest by banks.

The total USD/LKR traded volume for 10 July was $ 60.53 million.

Some forward USD/LKR rates that prevailed in the market are: 1 Month - 175.95/10; 3 Months - 177.25/45; 6 Months - 179.20/50.