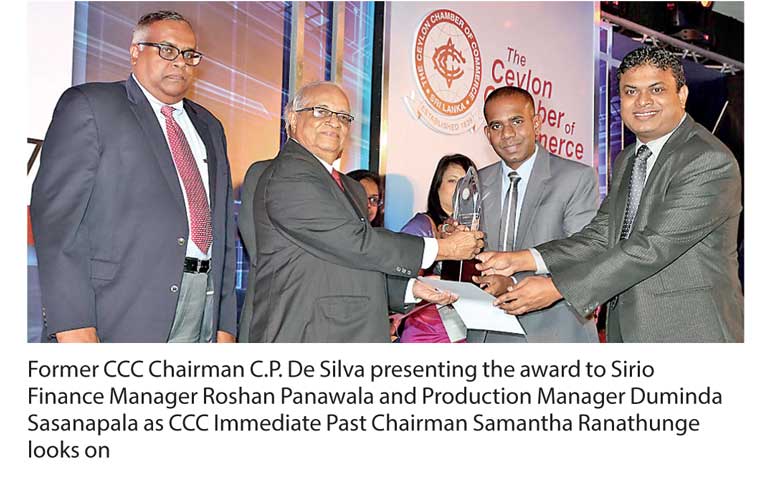 With a continuous drive towards long-term growth and highly focused export-oriented strategy, Badalgama-based apparel manufacturer Sirio Ltd. was recently awarded for its financial performance at the Best Corporate Citizen Sustainability Award 2017.

Held on 28 November, the annual event which is organised by Ceylon Chamber of Commerce (CCC), Sri Lanka's premier business chamber, applauded some of the country's top corporates that place high importance on sustainability, ethics and governance.

This year's award ceremony was held for the 14th consecutive time and was graced by Chief Guest Kenichi Suganuma, the Ambassador of Japan to Sri Lanka, while David Bent, a renowned global corporate sustainability expert, delivered the keynote address.

'We are honored to have been recognized as one of the best performers in corporate sustainability initiatives in Sri Lanka primarily being awarded for our company's financial performance and growth. This is indeed a great milestone and we're confident to thrive in similar initiatives in future,' commented Felix A. Fernando, CEO/Director, Sirio Ltd.

Operated under the flagship of Calzedonia S.p.A in Italy, Sirio Ltd. is one of the many locally-associated apparel companies. Calzedonia S.p.A manufactures and specialises in women's undergarments, stockings, nightdresses, socks and swimwear.

Other companies locally include Omega Line Ltd, which was awarded the highest value-added exporter in the apparel sector category at the recent Presidential Export Awards, Alpha Apparels Ltd. in Polgahawela, Benji Ltd. in Bingiriya and Vavuniya Apparels in Vavuniya, all comprising a total workforce exceeding 12,000 employees.

Calzedonia S.p.A has over 4,200 retail sales outlets in over 40 countries across Europe, Russia, Middle East, Asia and America and sells its products labelled with various brands such as Intimissimi, Calzedonia, Tezenis and Falconeri.

The event featured many awards ranging from the Best Corporate Citizen Sustainability Award 2017, Top 10 Corporates, category awards, sector awards to top performers for key sectors of the economy and Best Presented Application.