With Sri Lanka's first-ever international fashion week— Mercedes-Benz Fashion Week — announced recently, there is much talk about the event in the usual fashion circles, and even outside them. There is a good reason why the public is excited about the globally renowned fashion phenomenon dawning on Sri Lanka – it is open and accessible to the public. Stepping outside the traditional exclusive mindset that comes with fashion weeks, this major international platform is presenting a public program that has been especially put together to bring the most up-to-date tips and trends of fashion and lifestyle, along with lightly curated fashion intelligence for the extra curious consumer or even fashion corporate, student or entrepreneur, interested in understanding the moves and the shakes of the global fashion industry.

Behind this eclectic experience is the much-loved Lankan fashion e-tailer, www.fashionmarket.lk. A cutting-edge retail proposition powered online to reach consumers worldwide, FashionMarket is known as a future-forward player in the fashion business. The e-tailer partnered with the inaugural Mercedes-Benz Fashion Week Sri Lanka, taking full ownership for the mega event's weekend program that is open to the public. 'The Fashion Experience Weekend' is curated by the fashion entrepreneurs, business brains, designers, digital experts and stylists behind FashionMarket, taking into consideration, the wealth of data that they have through the online operation. Navigating through the information on consumer preferences and curiosities, FashionMarket is expected to present a public fashion program that speaks directly to the local fashion consumer, while also helping to shape their views, opinions and know-how on how fashion impacts their life.

Harshi Alexander, the CEO of this futuristic fashion e-tailer, joins in for an interview that sheds light on the thinking and curation behind The Fashion Experience Weekend at Mercedes-Benz Fashion Week Sri Lanka, and what the event series will deliver to the public in terms of both entertainment and knowledge.

Following are excerpts: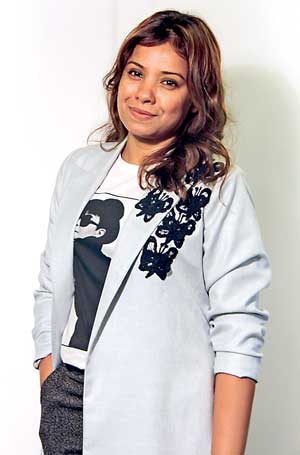 Q: MBFW Fashion Experience Weekend is FashionMarket's brainchild. How did this connection come about?

A: This is actually not the first time we are collaborating with Mercedes-Benz. FashionMarket was launched at Mercedes-Benz Fashion Awards two years ago, and last year we were the retail partner to launch Sri Lanka's first ever 'Shop the Runway' feature for the Mercedes-Benz Fashion Runways. This year, as the event is evolving into a fully-fledged fashion week, we felt that we had something special to offer, through our experience of being a ecommerce portal for fashion in South Asia with a fantastic database on what the fashion consumers here like, want to learn more about and are gravitated towards.

From FashionMarket's brand view, we are all about changing stereotypes and influencing the change of business and social norms when it comes to fashion— so this is our way of contributing to a fashion movement and connecting to consumers. This was what led to the collaboration and for FashionMarket to conceptualise and curate The Fashion Experience Weekend at MBFW.


Q: So, what exactly is 'The Fashion Experience Weekend'?

A: This is an experience that was created to bring the fashion consumer and the general public closer to the energy of the Mercedes-Benz Fashion Week Sri Lanka. It's part of a broader experience platform that Mercedes-Benz Fashion Week Sri Lanka looks to develop across genres of events from those more business focused, to experiences like this that are more casually curated to contribute to the overall

knowledge sphere on fashion, style and trends.


Q: Why did you think it's important for the consumers to be part of the Mercedes-Benz Fashion Week through 'The Fashion Experience Weekend'? Is there a reason why the traditional notion of keeping the event more focused towards an audience of media and buyers is being disregarded?

A: Yes, there is a big reason. I think the way the fashion industry worked in the past where a few big brands dictated what the whole fashion world wears, is so over. With all due respect, there was a time when that was relevant, but now it's no more. Today the consumer is such a big part of what fuels and inspires fashion trends and industry shifts, that it makes no sense to keep them excluded from the fashion weeks. Fashion shows are the ultimate mega-marketing event, and historically the consumer has always been outside the door; but, now it's high time to take fashion weeks beyond the press and selected buyers. Global fashion weeks are changing and evolving; NYFW opened its doors to the public and so did London Fashion Week though the London Fashion Festival- it's time to change.



Q: You said that as an e-retailer connecting to fashion consumers online, FashionMarket had something unique to bring into the curation of MBFW's public program. Can you explain this more?

A: One of the most incredible things about e-commerce is that we are able to access a unique blueprint of information that enables us to derive what fashion consumers today like, dislike, are interested to find out more about etc. If you know how to use this information, it's a matter of translating them to events, businesses and operations in the fashion business. This is what we are doing with MBFW Fashion Experience Weekend. We are analysing the data that we have on the consumers' likes and dislikes, preferences, curiosities and interests to put forward the kind of weekend event series that they would massively benefit from.


Q: So, how has MBFW's public program been curated according to this digital user data that you possess?

A: The idea was to create one-of-a kind experiences that allow MBFW enthusiasts to get closer to the action. Even in the past years when we worked with Mercedes-Benz fashion events, we've had incredible demand from brands, designers and people who love the glamour and passion that goes into a mega-scale fashion week, and want to be part of that— rightfully so, as important forces in the fashion industry.

Everyone is wondering what goes into creating fashion week, what is it actually like to be behind the curtain; to be able to get a direct view into the action is such a unique experience. This is what we kept in mind when curating the weekend.


Q: What can someone expect at the MBFW Fashion Experience Weekend?

A: What's being offered are private viewpoints into the behind-the-scenes action of styling and curation through dedicated studio sessions for hair and makeup with the KESS salon, access to a designer trunk shows, pop-ups and access to exclusive styling services, etc. What interests me more, personally, is the fashion intelligence that is being shared freely through fashion insider Q&As, designer meets and greets etc. that discuss fashion in a deeper sense, allowing visitors to really understand what fashion can deliver for them in terms of confidence building, corporate dressing, personal-image wardrobe curation etc. As much as it is about delivering a fashion weekend event tailormade to meet the interests of the Sri Lankan fashion consumer, it is also about educating and empowering them.


Q: Can you explain how the MBFW Fashion Experience Weekend will educate and empower the Sri Lankan fashion consumer?

A: Consumers today have so much power. They are literally the sayers of nay or yay for the fashion industry— the consumer demand is the trend, not the other way around. Most evolved fashion consumer markets know this power and use that to demand the fashion businesses they purchase from, to upkeep values that they have, support causes that they support and adopt the views that they adopt.

For example, the call for sustainable clothing in Europe by the fashion consumers there caused a huge upheaval in the last decade where brands had to invest into greener and cleaner material, manufacturing and tech— they had no choice. So, by making the consumers here see this, we are hoping to help create a more informed, empowered and responsible fashion consumer culture here in Sri Lanka. It will up the game for both the consumer and the fashion brands.


Q: How relevant is knowing about fashion to the normal day-to-day professional?

A: It is essential for them to get educated on how fashion can deliver much more than just a trendy outfit to don. It's really a depiction of personal meaning; fashion is no longer just about luxury, a statement of your wealth or the high-end brands you have in your closet. Fashion, if used correctly, is an extension of who you are and what you believe in. It can be a reflection of your profession, or your ethnicity. It can mean something about your beliefs or your origins. So, this has very serious implications for corporate clothing, dressing for a traditional ceremony or for a situation where you want to very clearly express what your values are. Without this knowledge, our fashion consumers will simply go on wearing whatever they are told to be trending. We like to give them the knowledge so that they can choose for themselves, what resonates best with who they are and what they do.


Q: What kind of audience do you expect to see at the MBFW Fashion Experience Weekend?

A: The Fashion Experience Weekend program events are open to everyone, so anyone interested in fashion or lifestyle is welcome. We are expecting corporate professionals from fashion and lifestyle businesses to take part too, because it will give them a solid understanding of the trends governing their clients and the business they are in. The events are also well suited for consumers looking for a first-hand experience at the fashion week experience and are interested in purchasing and getting up close and personal with the latest fashion. I think it is also a good opportunity for young people— especially fashion and design students— to get access to some fantastic knowledge on the fashion industry trends and moves. It's really very relevant to a lot of people.

Mercedes-Benz Fashion Week Sri Lanka 2017 will take place on 27, 28 and 29 October at the Mercedes- Benz Centre of Excellence DIMO 800. The Fashion Experience Weekend curated by Fashionmarket.lk will be held on 28 and 29 October. To obtain a pass register now on www.fashionmarket.lk .For more information and to watch the digital shows Live, visit the official website www.mbfwsrilanka.com.