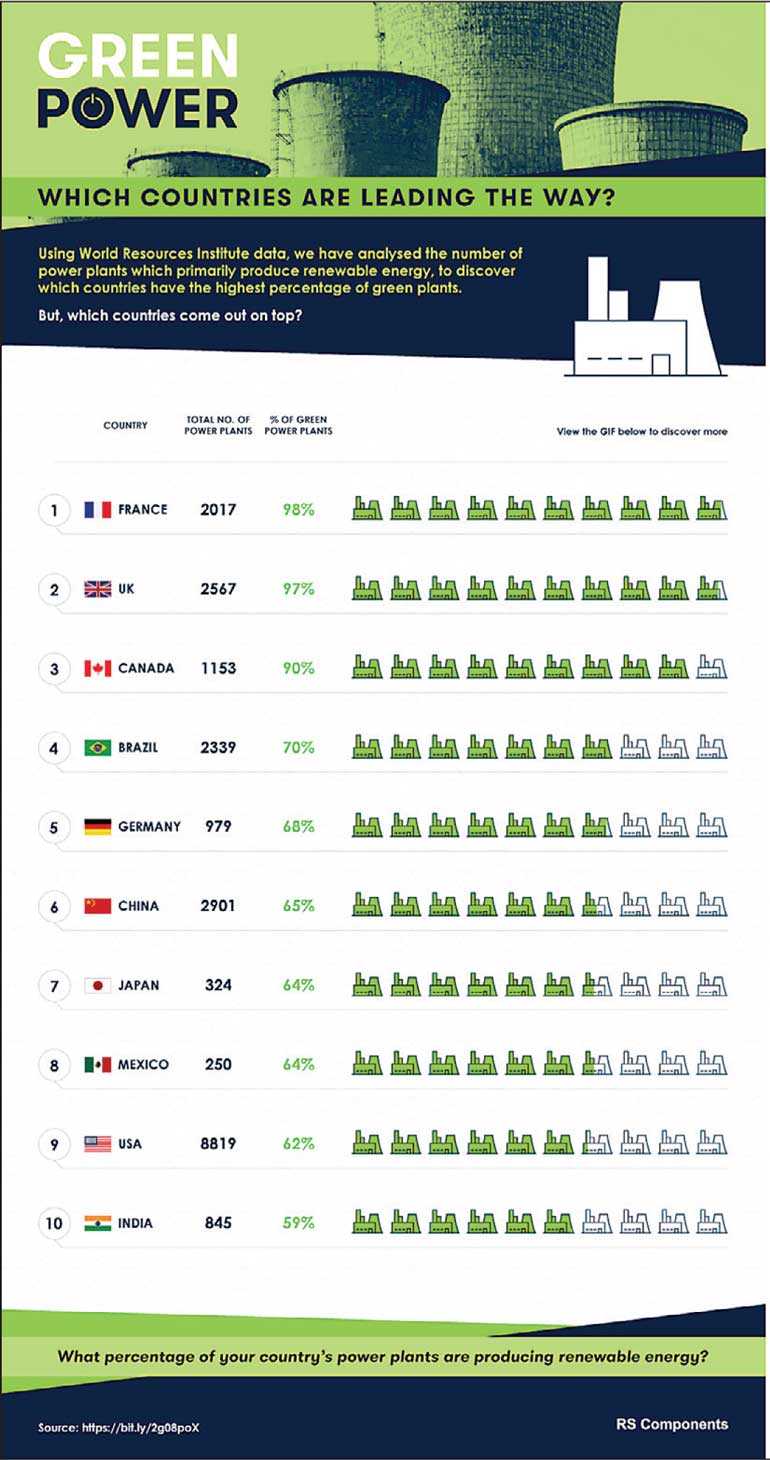 ---
Producing renewable energy is now more critical than ever in the fight against the effects of global warming
​​
Renewable energy sources such as solar, wind or hydroelectric power are becoming increasingly more common as costs decrease. Renewable energy provides substantial benefits for our climate, our health, and economy, whilst also dramatically reducing global warming emissions, improving public health, and providing jobs and other economic benefits. Since most renewables don't require water for cooling, they significantly reduce the water requirements for power production compared to fossil-fuelled power plants.

But which countries are setting a great example when it comes to renewable energy, and are leading the way with the highest percentage of power plants?

Using World Resources Institute (https://www.wri.org/) data, RS Components has analysed the number of power plants which primarily produce renewable energy, results of which can be view at https://uk.rs-online.com/web/generalDisplay.html?id=green-power.

France ranks in first position with the highest percentage of 'green' power plants, with an incredible 98% of their power plants producing renewable energy. France is clearly one of the leaders in wind energy usage and a 10 MW wind farm (around three to five turbines) produces enough electricity each year for the domestic needs of around 9,000 people.

The UK comes in at a close second place with 97% of their 2567 power plants producing renewable energy. From analysing this data, it's clear to see that the UK use solar power more than any other renewable energy source. In 2018, there was a new record set for solar panels in the UK for electricity generation, providing nearly a quarter of the demand. With a particularly warm summer, solar produced some 8.7 gigawatts at midday on one sunny day, representing 24.3 percent of the electricity being used at the time, the National Grid revealed. This was a huge milestone in the UK's effort to harness the increasingly cheaper energy coming from the sun. USA has the most overall power plants with a whopping total of 8819 - however only 62% of these are classed as 'green' – producing renewable energy. Further, a comprehensive study by the Department of Energy's National Renewable Energy Laboratory (NREL) shows that the US can generate most of its electricity from renewable energy by 2050.

The Renewable Electricity Futures Study found that an 80 percent renewables future is feasible with currently available technologies, including wind turbines, solar photovoltaics, concentrating solar power, biopower, geothermal, and hydropower.