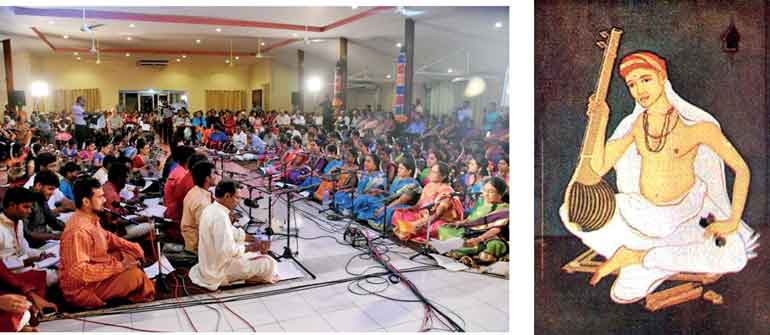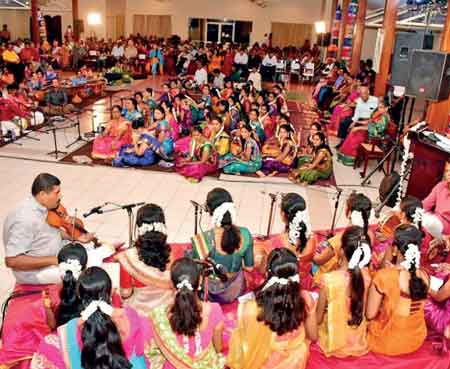 Indian Cultural Centre, High Commission of India, Colombo will be organising Sri Thyagaraja Aaradhana, an annual music festival paying homage to the great Carnatic music composer St. Thyagaraja Swamy, on Friday 16 February at 5 p.m. at Saraswathie Hall, No. 75, Lorenz Road, Colombo 04.

Musicians, vocalists as well as instrumentalists and percussionists from all over Sri Lanka including University of Jaffna, Eastern University of Batticaloa, University of Visual and Performing Arts, Colombo, Highlands College, Hatton, students of Indian Cultural Centre will come together and render Pancharatna Keerthanas (five songs) of Thyagaraja on this occasion. The choral rendition of the five songs is an integral feature of the Aaradhana. St Thyagaraja Swamy, one among the Trinity of Carnatic Music, composed nearly 700 compositions and is considered as the inspiration, source and touchstone of musical creativity. This carnatic music festival Thyagaraja Aradhana is supported by the Hindu Educational Society and the Express Newspapers of Ceylon Ltd. This is the 14th year this festival is being organised by India Cultural centre, Colombo.

Musicians who would like to join the Aaradhana may approach the Indian Cultural Centre in person or mail to iccrcolombo2@gmail.com. The rehearsals for the event will be held on 15 February at 4 p.m. at Saraswathie Hall.

The admission is free to this event and seating on first come first serve basis.

For further details please contact the Indian Cultural Centre on telephone no: 2684698 and Email: iccrcolombo2@gmail.com.