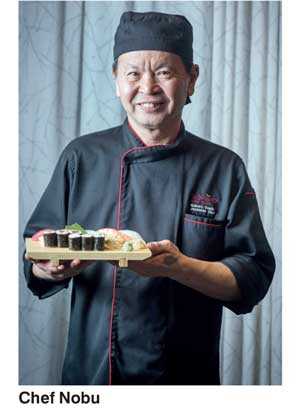 When it comes to Japanese food, there is never too much. Robata Grill and Lounge, located on the second floor of the Mövenpick Hotel Colombo, has been conquering the city with innovative and fun dining concepts.

Smiling faces greet you as you seat yourself and drink in the sultry furnishing and surroundings. A glimpse of head Chef Noboru Ozeki can be seen, silently rolling out his magic, as he puts together some of his finest and freshest choices.

Commencing June, Robata grill and lounge will introduce "Tokyo Nights" – a buffet themed concept every Friday from 7 p.m. onwards. From teppanyaki to the freshest sushi, spicy salmon rolls, refreshing miso soup and assorted yakitori, it's an unlimited buffet of Chef Nobu's finest choices priced at 3,900.

A fun and interactive dining experience awaits you. Simple, no-frills, fresh and affordable. Call +94 117 450 470 to make a reservation.