At the OPA's 32nd Annual Conference, Prof. Saman Seneweera suggested the need to have a program to attract Sri Lankan professionals working overseas
---
Developing countries like Sri Lanka will have to prepare for further downside risks in 2020 with the growing debt problems and the growth problems in Europe and the slowdown in Asia. Slower growth is already visible in weakening global trade and commodity prices due to US-China trade war and oil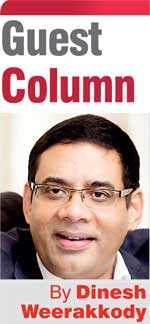 wars.

The key to improving market competitiveness as pointed out at the recent CCC Economic Summit by a former Indian Minister in the economy lies in raising human resource capabilities; that is, to make appropriate investments in human capital through higher education and professional training in order to more efficiently generate and manage new technologies.

In this new era of intensified globalisation and international competition, we can no longer rely on cheap labour to gain competitiveness. We must continue to invest in our human resource, since the high growth industries of the future such as the information technology (IT) and biotechnology industries, require an increasingly skilled labour force.

Lessons learned from other successful countries in attracting FDI indicate that the ability to create a skilled human resource base is crucial for multinational companies to relocate firms and world class high-tech plants to new markets.

In Sri Lanka we find that the trained talent we have in the country is not sufficient to meet the local demand although it may be just sufficient at the moment for some sectors in the domestic market.

The two main reasons for this emerging situation are, a) because the education system in the country is not delivering the volume and quality desired b) we are losing our trained talent to other developed markets. The areas of growth for the Lankan economy in the future would be in the services sector and therefore, it is the knowledge and training of the people that would finally matter to move us beyond a middle income country.

Therefore as a country we need to make the right investments for education. Not just buildings, computer labs, etc., but more for teacher training and capacity building. As pointed out in the media the money used to construct Sri Lanka's tallest tower constructed on a bank loan may have been better utilised for more urgent sustainable investments like, affordable housing, creating liveable cities and better education.
Invest more in education
Today the most mobile people now are not the political refugees, but the educated, and they are being sought after as never before. Most governments are easing restrictions on the entry of qualified people.

For a start the Government should focus on wooing our professionals working abroad by making it very attractive for them to come back and offering them dual citizenship as proposed recently at the OPA by Sri Lankan expatriate.

Now that there is an election on the cards there is expectation that the country will get a fresh start. Sri Lanka therefore could woo back some of our top Sri Lankan expatriates who have gone abroad to make their money but still feel the tug of their home country, to fill some of our short-term knowledge and investment gaps.

In addition, to this the Government should initiate a program in consultation with the private sector to equip our university graduates with the required skills to ensure that our graduates and A/L qualified high school graduates become employable to fill short-term skill gaps and help us to build a solid talent pool to attract FDI. Therefore we need to be more imaginative about attracting our trained talent abroad and developing and retaining our skilled talent that we have in Sri Lanka.

To achieve that we need a vision for our country that is not second to any in the region, one that is intellectually rigorous, accessible, internationally engaged, innovative and efficient to enable all Sri Lankans to be part of a productive society with a broader economic and industrial base.


(The writer is a thought leader.)