---
The late John F. Kennedy described politics as a "noble adventure, an adventure in which one joins hands with the masses for the service of man". Not that the Kennedys didn't play "politricks" in their heyday. But playing "politricks" with a nation's wellbeing and her people's vulnerable mindset is an unforgivable sin.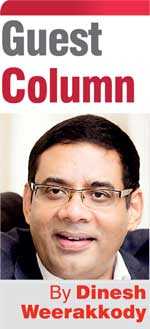 Sri Lanka's Presidential Election, scheduled for December 2019, looks set to defy the predictions of many and be a true competition as the surveys suggest. As such, the polls threaten risks and promise to the minorities.

For the country in general there will be opportunities for long-term economic stability and post-war reconciliation.

This coming December, most mainstream parties are very likely to play to the Sinhala heartland, fuelling and fermenting further the disappointment, frustration, resentment and anger in Tamil and Muslim communities, however their voting percentage could still be decisive either way, as clearly demonstrated in 2005 and 2015. Candidates should therefore be sensitive to the aspirations of all communities.

The emergence of a strongman opposition candidate from the Rajapaksa family was not a surprise, despite all the controversies surrounding his US citizenship. The JVP on the other hand is planning to run on a platform of constitutional reforms to further limit executive power and restore independent oversight bodies.

The Opposition led by former President Rajapaksa is set to pose a strong challenge to the UNP-led coalition which is yet to announce its nominee. According to inside sources this will be done officially by September. Also Attorney-at-Law Nagananda Kodituwakku, an independent candidate, has already declared his intention. He has said publicly that he decided to contest the forthcoming 2019 Presidential Poll as he felt the two major political parties and those aligned with them as well as the JVP had pathetically failed the country.
Economy
As macroeconomic conditions get even more challenging, many graduates who are struggling to find work due to a huge skills mismatch are hoping the Government will absorb them into the public service before December.

Structural issues in the economy portend a long road ahead. A stable economy, a liveable and stable environment, low personal taxation, higher standards of governance, more incoming investments, and intellectual property protection are what the three million floating voters want from the next president. Therefore bolder, benevolent leadership, aggressive measures to tackle longstanding issues like poverty, education, housing and rural infrastructure. These issues include housing affordability, retirement adequacy and reducing the cost of small businesses, which should be on top of the agenda.

Therefore the next president needs to look beyond GDP growth in assessing the development and wellbeing of the populace in shaping more inclusive policies.

Also a better industrial policy that better supports the development of indigenous companies.

The rate of technology disruptions is another issue impacting our economy. Therefore an export-oriented and international business-friendly market, leveraging our historic and geographic advantages, as a key hub for global financial business and transhipment activities is a must.

Bold policy moves are therefore required, while selectively looking for Free Trade Arrangements that can benefit Sri Lanka. That surely would require competency and patience of a higher order from the next president.
Expectations
Therefore the next successful president is likely to be somebody who concentrates relentlessly on a few well-chosen goals. Someone who makes it plain that 'there is only so much of me and there are only so many days'. The country needs a leader who is capable of preventing corruption and has the capacity to uphold the law and lead the country towards inclusive development. The largely-undecided voters are looking for a new option as they are tired with the rhetoric and broken promises, they want a new political culture to end corruption, thuggery and nepotism, and also protect their freedoms. However how much of this is deliverable depends on the candidate. Because the next president too needs the support of Parliament in order to achieve major parts of his agenda. Any president is at the mercy of Parliament when it comes to budgets and legislation.

In the final analysis, whatever the outcome, if we can get a president like Abraham Lincoln pledged a century ago – with malice towards none, with charity to all, with firmness in the right – our nation shall have a new birth.


(The writer is a thought leader.)