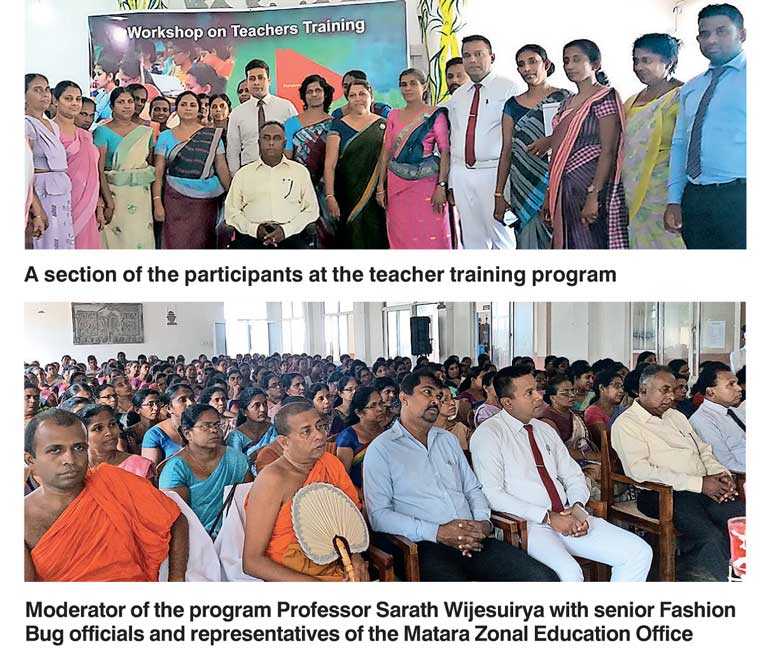 Leading fashion retailer Fashion Bug conducted a successful teacher training program in Matara recently to enhance their knowledge in building a brighter future for school children.

This program was hosted by Professor Sarath Wijesuriya where the teachers were assisted with the knowhow on training methods for children, building a healthy student-teacher relationship, counselling, work life balance and importance of the role played by a teacher.

During the program more than 250 teachers representing 101 schools in the Matara Educational Division participated in the training program which was held at the Mahamaya Girls School, Matara.

"The importance of providing necessary training to teachers is constantly growing as the next generation keeps getting advanced with technology. Therefore it is necessary to provide our teachers with a good training on the aforesaid key factors. This will help them to develop their skills, which would be an added value to their experience down the line. For quality education to take place, the development of quality teachers is vital, that's what we believe as a responsible corporate player. I would like to thank the Ministry of Education and the Matara Zonal Education Office for giving us this valuable opportunity to conduct a very important and a timely training for our energetic teachers in Matara with much success," said Fashion Bug Director Shabier Subian.

Not only Fashion Bug does programs for teachers, but for students as well where the responsible fashion retailer has being conducting the highly successful Sisu Diri Maga program focusing on providing basic training to support, motivate and guide the students in devising the path of their chosen vocation.

This program has fruitfully benefitted over 13,500 deserving students, and the company has set a goal to engage with 120 schools and over 100,000 students across the island in the next couple of years.

The company has also developed its own scholarship program as part of its signature CSR initiatives. Furthermore Fashion Bug was the pioneer in introducing the first ever peer counselling concept to school children in partnership with the Ministry of Education. Fashion Bug commenced its operations since 1994 as a partnership business with four partners and a staff population of just 15.

The company today possesses over 16 stores throughout the country with a workforce of over 1,250 employees, and stands among the leading clothing chains in Sri Lanka catering with the fashion motto of 'changing lifestyles'.