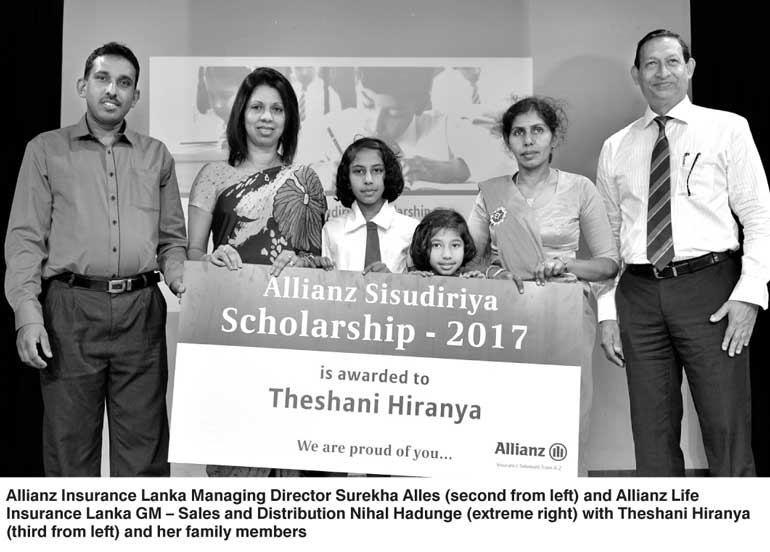 Allianz Lanka awarded scholarships to students who had excelled in the Grade 5 scholarship examination under the Allianz Sisu Diriya Scholarship program for the third consecutive year. The program was originally initiated to commemorate Allianz SE's 125th anniversary.

Allianz Insurance Lanka Managing Director Surekha Alles handed over the scholarships to Jaffna district topper Ananthieka Udayakumar and Theshani Hiranya who was ranked 2nd in the Badulla district recently.

The insurer will be providing them with a monthly stipend from now until they sit for their A/L examinations under this scholarship which is awarded to children of Allianz Life policyholders who have done well in this exam.

"At Allianz, we strive to give our policyholders and their loved ones the courage to move forward in their business and personal endeavours, irrespective of what their goal might be. We understand the value of education in helping them succeed and hence, created the Allianz Sisu Diriya Scholarship in Sri Lanka in 2015," said Allianz Insurance Lanka Managing Director Surekha Alles. "Commending Ananthieka and Theshani for their outstanding performance, we are delighted to stand by them throughout their school lives through this cholarship program."

Allianz Insurance Lanka Ltd. and Allianz Life Insurance Lanka Ltd., known together as Allianz Lanka, are fully-owned subsidiaries of Allianz SE, Germany, a world leader in integrated financial services. Having started out as a Greenfield operation in 2005, it has emerged as one of the fastest growing insurance service providers in Sri Lanka. The company prides on supporting its clients' business strategy by understanding their risk profile and needs, and providing individual solutions from its world class portfolio of products and services. Around the world, over 140,000 Allianz employees serve some 86.3 million retail and corporate customers in 70 countries, who place their trust on the knowledge, global presence, financial strength and solidity of Allianz to support them in their moment of truth.