Sri Lanka in 2015 was way below the budget set for Foreign Direct Investments (FDI). The Government is making a huge effort to attract FDI because today FDI has become the major economic driver of economic growth.

The effort made by the Prime Minister in Davos to attract new investment into Sri Lanka is a clear sign that the Government is ready to do business with the world. The private sector needs to support the effort and the bureaucratic system we have needs to overhauled in line with other markets.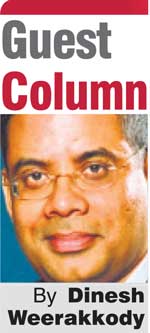 Today the most profound effect of FDI has been seen in developing countries where yearly FDI flows have increased. Today, China is at the forefront of FDI growth, followed by Russia, Brazil and Mexico.

Generally FDI refers to long-term participation by one country in another country. It usually involves participation in a JV, capital transfer, transfer of technology and expertise. There are two types of FDI: inward FDI and outward FDI, resulting in a net FDI inflow (positive or negative). There is substantial evidence that such investments benefits host countries.

In Sri Lanka, during periods of relative economic and political stability, FDI inflows have responded positively. Sri Lanka expects FDI to more than quadruple to $4 billion by 2020, currently we are less than $ 1 billion. Also with the advent and growth of the internet many traditional cases of FDI which required huge amount of capital and physical investments are slowly becoming obsolete. Therefore policymakers in developing countries must have the expertise to understand these new trends that has and will alter the playing field for FDI significantly.


Benefits of FDI

FDI generally benefits the host country, however its potential impact should be carefully and practically accessed. FDI is viewed as the "good cholesterol" HDL, whereas short term debt is considered "bad cholesterol" LDL. FDI is thought to be "bolted down and cannot leave so easily at the first sign of trouble". FDI has proven to be resilient during a financial crisis. A good example would be the Mexican crisis that took place during 1994-1995 and the Latino crisis in the 1980s.

The resilience of FDI during a financial crisis has led many developing countries to monitor it as a private capital inflow of choice, rather than in other forms of private capital such as portfolio equities, debt flows, and in particular, short term flows which were all subjected to large reversals during a crisis.

Generally, private capital, flows across borders, because it allows capital to seek out the highest rate of return. Countries often choose to exempt some of its revenue when they cut corporate tax rates in an attempt to attract FDI from other countries. FDI also allows the transfer of expertise and technology, particularly in the form of varieties of capital inputs, which cannot be got via financial investments or trade in goods and services.

However, there are many findings that show where the FDI is relatively higher of the total inward investment, even when the risks are very high. This is often because FDI tends to take advantage of the countries where the market is inefficient. It happens because foreign investors prefer to operate directly instead of relying on local financial markets, credit ratings, agents, or legal arrangements.

Also, FDI may not be beneficial in developing countries where foreign investors have vital inside information about the productivity of the firms under their control. That fact gives them an information advantage over "uniformed" domestic savers, whose buying of shares in domestic firms does not involve control.

Taking advantage of this superior information, foreign direct investors tend retain high productivity firms under their ownership and control, and sell low productivity firms to the uniformed small time retail players.


Attracting FDI

The best solution for developing countries to increase their overall amount of inward investment of all kind, is to focus on improving the environment for investment, strengthen the functioning of capital markets and also private companies need to improve governance within their enterprises. By doing so, they are likely to be rewarded with increased investment as well as with more capital inflows.

The economic pressures in many of the developed markets is speeding up the shift of focus to frontier and emerging markets since they still remain the only source of growth in the world economy. Therefore Sri Lanka under the new administration could very well attract more foreign investment and there by develop our industry faster, if we strengthen both our soft and hard infrastructure, workforce skills, have efficient capital markets, provide sustainable legal guarantees to protect investment and strengthen governance in both the public and private sectors.

Therefore, investment policies in Sri Lanka, have to be further restructured to attract more foreign direct investment. In addition, we need to promote sustainable free market policies and continue to liberalise the economy.
(The writer is a senior company director.)