I launched a book a little over a year ago titled 'In The Best Interest Of My Country' and Ranil Wickremesinghe in his speech said a country cannot progress unless you have leaders who have both the passion and competence and he went on to say without good governance a country cannot attract the right talent and the FDI into a country.

Ranil is among just a handful in this country who have both these qualities and had clearly demonstrated this capacity. In business a competent CEO can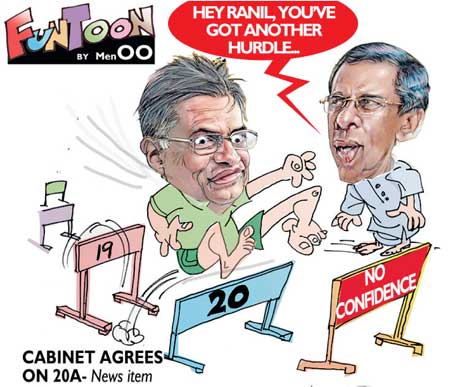 generally deliver more than 40% than an average CEO. In government it is very much more, as clearly demonstrated by Deng Tsiao Ping, the late Chinese leader, and Lee Kuan Yew of Singapore.

Ranil, despite some weaknesses, is the best leader we have, who can change the game if given the space to deliver and Ranil works within the mandate and will win the confidence of all parties. Take a long hard look at what the Yahapalanaya Government set out to do and had achieved practically all those objectives except the ones that needed the sanction of the Legislative: where Parliament had to vote in the amendments. A look at the real issues confronting our country and economy will literally convince us, the voter, that we are missing the woods for the trees!


The Opposition

The Opposition predominated by loyalties to the previous President seems to be hell bent on either challenging his mandate or shoot holes in the effort he has taken to bring the country and the economy to an even keel, without realising what these initiatives are and what favourable outcomes it will bring to the country.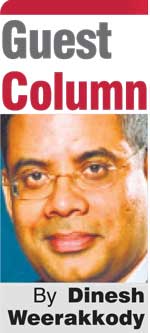 Is it then fair to slam a no confidence motion on Ranil? On a personal level Ranil is a gentleman, a leader with integrity, who believes, even when he is under fire, that the law must take precedence over personal loyalties, a respecter of the rights of all ethnicities and even to a fault.

What I recall during his second term as Prime Minister is that he resisted all efforts to grab back the three ministries which were deprived from him in the year 2004, by then incumbent President, due to the sheer regard and respect he had for the Constitution which though unfairly weighed against him. Therefore, it is important that the people he places his trust on to deliver his mandate don't let him down, diminishing his value and undermining his position in Parliament as PM. They owe it to him because he stands by his officials, come what may.


Improving competitiveness

Today one of the biggest challenges we have is improving our country's competitiveness. Ranil clearly understands what competitiveness is and believes in a conducive business environment where every entrepreneur, big or small has the ability to move up the business hierarchy on his or her own merit. He knows what is necessary, to improve our skills, including attracting FDI at a minimum of 35% of GDP in order to maintain the current 8% plus growth target that the country needs.

Besides improving the 'Doing Business Index' to strengthen investor confidence. In this direction he is valiantly trying to adopt the core business values such as integrity and transparency in doing business by making sure political interference is totally removed from the decision making process. In addition, he has made a huge effort to run the stock market according to ethical standards which has encouraged the genuine investors to invest.

Ranil so far has made opportunities for a broader group of investors to benefit by investing in the stock market. This has already brought sanity to our bourse and will help the CSE to run its operation in a sustainable way.


International relations

Ranil in the last few months has made a huge effort to rebuild international confidence amongst international leaders and investors, both locally and internationally particularly with the US and EU (where are our major markets remain). Through our well-orchestrated foreign policy, the Yahapalanaya has and continues to succeed in this direction too.

He has largely restored the independence of the Judiciary and the public service (looking to invest in building capacity) which not only will boost confidence of investors but also generate a positive climate in the country. The results of his efforts will come slowly but surely, because he is not a man who looks for quick wins.

Therefore, given his profile, this is the last chance we have to support a leader who knows how to create real wealth for our country and usher in an era of prosperity to our motherland. Despite a few hiccups, Ranil is perhaps the last of the old brigade who has the capacity to help Sri Lanka to realise its full potential, but he certainly needs the space to up his game to put the right team in place to deliver on his promises of good governance and economic prosperity.
(The writer is a senior company director.)