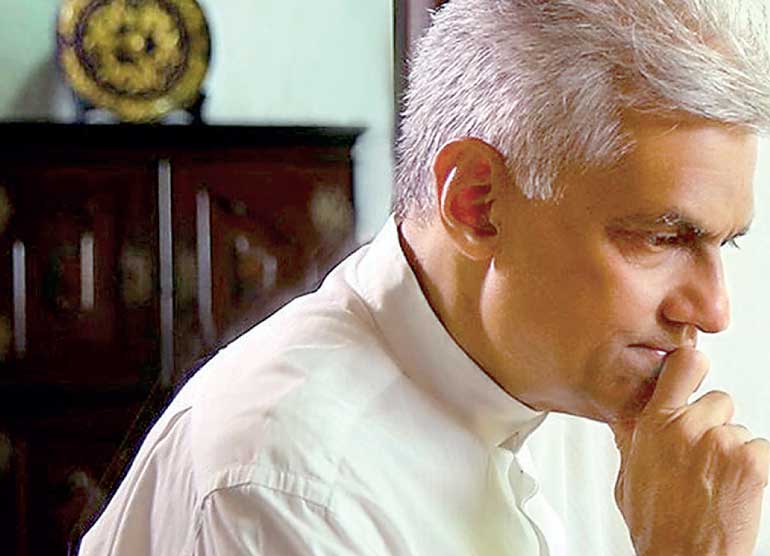 Prime Minister Ranil Wickremesinghe
From April 2004 to 8 January 2015, Ranil Wickremesinghe unlike Maithripala Sirisena had to stay a decade in Opposition, facing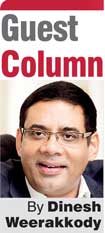 many challenges from within the party, including a tough challenge to his leadership.

Despite the UNP losing many elections, many people pinned their hopes on Ranil because he was the last of the old brigade of '77 who had the capacity to help Sri Lanka to realise its full potential and had a squeaky clean reputation. The few of his diehard supporters who had stood with him when the tide was against him knew that if he got into a position of power he would be unstoppable and would be another Lee Kuan Yew in the hot seat. He certainly had the traits of a Lee Kuan Yew in the making.

However, today many people are slowly getting disillusioned with his style of governance. To his diehard supporters, these are days of fading hope and overwhelming despair and for those who toiled hard for the 'Yahapalanaya' which the Joint Opposition now call a 'Jadapalanaya' and the disenchanted have given up and many of them are openly venting their frustration on social media. Therefore it is important that the people he places his trust on to deliver his mandate don't let him down, diminish his value and finally undermine the 8 January mandate.

On 8 January 2015, citizens had a simple choice, continue with the same, or vote for the promised Yahapalanaya. The minority community who watched in silence the breakdown of our religious values, traditions and culture, the politicisation of the public administration, which led to nepotism, bribery and corruption never seen before in our history had very little choice other than to vote for change. Then a sizeable minority of the majority Sinhala voters were frustrated with the arrogance of the Government and wanted a change at any cost.

Today a vast majority who voted for change on 8 January 2015 is seeing something that they have already seen so many times before, the painful blurring of lines between promise and abandoned delivery, between dreams and reality.

The election of President Sirisena gave Sri Lanka an opportunity for real change. The election of Maithripala Sirisena was no doubt a victory for liberty, justice and good governance, as against autocracy and nepotism. Therefore, how much of that has been delivered will be tested fully at the next local government elections only a few months away.

Building confidence

The Government, now 18 months old, to win back the confidence of the public would need to ensure steady and balanced economic growth with a conducive environment that will help to create new job opportunities, develop agriculture and industry, and reposition our education and skills development effort. Housing for the homeless and empowerment of the socially-marginalised and disabled including war victims should also be priority concerns.

Creating a conducive climate to do business, to rebuild business confidence amongst investors, both locally and internationally must be a top priority. By continuing to depoliticise the system a lot of the demotivated business leaders can be rejuvenated and re-energised. The stock exchange must no longer be allowed to be manipulated by a few. Therefore checks and balances are needed to ensure the exchange attracts genuine investors and also to provide opportunities for a broader group of investors to benefit by investing in the stock exchange. To ensure this, the Government should only act as a facilitator and that requires better regulation.

What is required is for business to be done by the private sector and for the Government to provide a level playing field and provide long-term investment friendly policies that will benefit all businesses, irrespective of their affiliations. Therefore many of the outdated committee structures, regulations and also tax and fee structures that are perceived, as a deterrent to investment and doing business must be removed via a consultative process between the public and private sectors. The Government needs to work to restore GSP+ fast.

Special emphasis also needs to be given to the welfare of the weak, disabled, the elderly and the unemployed, as well as environmental conservation. However, to do this, it is important that people with the right competence, credibility and aligned with the values of good governance are appointed to key ministerial and government positions, the mistakes of the past by appointing friends and relatives to key positions should be avoided. Without good governance we cannot win international confidence and attract the required FDI into our country.

Economy

Today one of the biggest challenges we have is improving our country's competitiveness. Ranil clearly understands what competitiveness is and believes in a conducive business environment where every entrepreneur, big or small has the ability to move up the business hierarchy on his or her own merit. He knows what is necessary, to improve our skills, including attracting FDI at a minimum of 35% of GDP in order to maintain the current 8% plus growth target that the country needs. Unfortunately, due to policy inconsistency and weak HR nothing much has been realised.

The trade gap has widened, exports are slowing and debt is up. Also the government besides improving the 'Doing Business Index' to strengthen investor confidence, we need to adopt the core business values such as integrity and transparency in doing business by making sure political interference is totally removed from the decision making process to encourage genuine investors to invest. That certainly requires a robust one-stop-shop, not an economic affairs committee packed with bureaucrats and politicians. There are many lessons for us from South East Asia.

Best option

Ranil, despite some vulnerabilities, is the best economic manager we have, who can change the game if given the space to deliver. Ranil is known to work within the mandate and will win the confidence of all parties. Therefore, given his profile and ability, we all want him to succeed, because this is the last chance we have to support a leader who knows how to create real wealth for our country and usher in an era of prosperity to our motherland, but he certainly needs to up his game to put the right team in place to deliver on his promises of good governance and economic prosperity. The results of that will come slowly, but surely.

Ranil has the qualities of a patient man, but not most of the public, therefore he needs to be responsive to popular opinion and rise to the challenge and deliver before it's too late for him and Sri Lanka.
(The writer is a thought leader.)