An issue that needs urgent attention is the colossal losses in the State-Owned Enterprises, especially, the top three – CEB, CPC and SriLankan
As a country we have slid from the 65th to the 73rd position this year in the Global Competitiveness Index (among 144 countries). What is causing this? It is clearly a couple of top line issues in our national priorities.

In general, our national competitiveness both in the formal and informal sectors needs to improve; this is worsened by low productivity and resource misallocation. The root cause could be the Lack of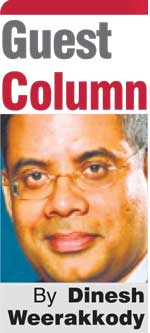 1) A National strategy to strengthen our competitiveness 2) transparency 3) the quality of firm management and the vibrancy of capital markets 4) implementation delays and 5) skills and competency shortfalls.

Another issue that needs urgent attention, which is causing this misallocation, is the colossal losses in the State-Owned Enterprises, especially, the top three: 1) CEB 2) CPC and 3) SriLankan. Therefore attracting a minimum of 35+% of GDP in both local and foreign investment would be required to keep to the current 7%-8% plus growth that the country needs to get beyond the middle income trap.

Therefore, we urgently need a national strategy to meet the economic challenges facing the country and for a wider participation of citizens in a broad sphere of economic activity. National competitiveness will be achieved only if the government ensures that the policies are appropriate and consistent.


Challenges

The challenge facing Sri Lanka has a number of dimensions, all of which must be addressed to accelerate economic growth and increase prosperity to all Sri Lankans. To do this, five key challenges must be overcome: 1) Creating productive new jobs 2) overcoming the public debt crisis 3) channelling resources effectively for infrastructure development 4) improving productivity by building and growing skills 5) and expanding our manufacturing base.



Improving productivity is the key to accelerate economic growth and to transform the economy to meet the economic challenges that face the country now and in the future, however that requires greater investments in education to improve educational opportunities for the young as well as for the workers changing jobs and upgrading their skills.


Sustained effort

A comprehensive and sustained effort therefore is required to reduce the barriers that impacts productivity and as a result limit investment and economic growth. A major share of that responsibility rests on the private sector for accelerating economic growth, increasing jobs and incomes and providing the resources that will be needed.

It is the private sector that should make the decisions that determine productivity and it is on this basis that our future growth should be directed. This however requires a conducive business environment where everyone is treated the same; where the rule of law applies without fear or favour. It is where every entrepreneur, has the ability to grow and expand on his or her own merit.

Also our financial services industry needs to engage much more in activities that improve our competitiveness, followed by the construction and real estate sectors. Another priority area would be to design and implement a stable and efficient low tax regime that will meet the Government's revenue requirements and be conducive for new investments.

The next administration would need to create a level playing field that will benefit the entire business community; by ensuring consistency in policy and providing a business friendly environment for all Sri Lankans to prosper. However, businesses can also do very much more to improve their competitiveness while also contributing to their own success.


Conclusion

While there is a significant role to be played by the private sector, it is equally crucial for the Government policies to be calibrated to facilitate our global competitiveness. The Government needs to provide a solid framework, and set the conditions for the private sector to succeed. Therefore those public policy areas where reforms are most critical to Sri Lanka's future competitiveness must be addressed. A Competitiveness Council could certainly play a key role in assuring that improvement is continuous.

(The writer is a HR thought leader.)