Annually, the World Economic Forum ranks countries in the Global Competitiveness Index — a decent gauge of which nations are best positioned to squeeze efficiency out of their businesses and to attract companies and investment from overseas. But if you look beyond the index and examine what countries are actually doing to earn their rankings, the bigger take-away is that the quality of workforce skills is inextricably linked to economic development.

To a great extent, Sri Lanka has yet to reach its full potential in the new knowledge-service based economy. To do that, we must continue to recognise the importance of building upon existing industries that offer potential for future economic growth. Tourism, technology related services for example, holds tremendous promise, but the lack of skills in those sectors would be an impediment to the growth of the industry. But if we are to succeed as an emerging economy, Sri Lanka must achieve a balance between a manufacturing-based economy and one driven by knowledge, services, ideas, information and technology. The importance of this pivotal change cannot be overstated.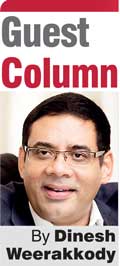 As compared to other countries, our current level of competitiveness is relatively low. But the opportunities before us are limited only by our imagination and our willingness to transform our imagination into reality. The task at hand therefore for our policy makers are very challenging. Whether for reasons of economic growth, competitiveness, inclusiveness or return on tax-payer investment, there is little rational argument over the need for significant changes in Sri Lanka educational outcomes. To bring about the required changes to the economy, would however require policy makers who see the future rather than those who live in the past and have failed miserably before. What we need is a set of people who have the skills and behaviours needed to get things done.

Limited improvement

It is irrefutable that the country has made limited improvement on most educational outcomes over the last several decades, especially when considered in the context of the increased investment over the same period. In fact, the total cost of producing each successful university graduate has increased substantially over time however, the quality of most of our graduates have declined significantly. Therefore, education not only needs new ideas and inventions that shatter the performance expectations of today's status quo.

To make a meaningful impact, these new solutions must also "scale up", that is, grow large enough, to support hundreds of students and teachers or large portions of specific under-served populations. True educational innovations would be those products, processes, strategies and interventions that improve significantly upon the status quo and reach scale. Yet, we traditionally have lacked the discipline, infrastructure, and incentives to systematically identify breakthroughs, vet them and support their broad adoption. To achieve our objectives, larger funding streams will need to drive the identification, evaluation, and adoption of effective educational innovations.

Transforming our economy

Much of the burden of transforming our economy will fall squarely upon the shoulders of our policy makers. The transformation to take root will require our schools, colleges and universities to provide expertise, experience and leadership in these four key areas:

1. Workforce development, arming graduates with the knowledge necessary for today's service driven economy

2. Strategic partnerships between higher education and industry that will lead to private sector expansion

3. Generation and transfer of ideas and technologies from research to commercial applications

4. Building communities and enhancing quality of skills to attract and retain business and industry

Our schools, colleges, universities and the work places have the talent, creativity but lacks the expertise necessary to make a profound difference in some of the critical areas. Therefore, it is the responsibility of the government and the private sector to make sure they create the opportunities they need to realise their full potential.

Urgency

Sri Lanka is fortunate to have leaders both in the Government and private sector who recognise the importance of investing in education. But Sri Lanka isn't the only state in the region to realise that investment in higher education holds the key to economic growth. The knowledge-based workforce development would require an innovative strategy that approaches the issues of incumbent workers, higher education as an integrated system. In keeping with their integrated approach, we need to promote market-based skills from the earliest stages. The priorities, therefore should be;

1. Immediately validate the skills requirements of industry and jointly deliver the identified skills needed to support the thrust areas of the economy.

2. Invest more on higher education programs that will lead to more graduates with degrees in technology, engineering, sciences and hospitality programs.

3. Increase the number of students prepared to enter science, services and technology fields, as well as the number of teachers who are proficient in the delivery.

Capital

Increasing the amount of pre-seed, seed and institutional venture capital available to emerging businesses, particularly those in the education, technology and bioscience sectors needs to be introduced. We also need to develop programs and incentives to increase the depth of management expertise and attract and retain top management talent from oversees to strengthen our nation's capability.

Conclusion

Today, Sri Lanka finds itself in a new economic climate with a new set of rules and a critical need for well-guided investment in higher education. We now compete in a global economy that is driven by knowledge, information, ideas and technology. The new Government realises the value of capitalising on our existing strengths. However, as we look to the future, we must explore opportunities and ideas to become more competitive. More than ever before, building HR capacity holds the key to our long-term economic success, a key weakness in our current disjointed education system and the complex bureaucratic structure and procedures.
(The writer is a HR Thought Leader.)