The Sunday Times last Sunday had a headline that said a Committee headed by Charitha Ratwatte, a one-time UNP Chairman, will with immediate effect oversee the working of the Ministry of Foreign Affairs (MFA). The committee would be called the Global Affairs Committee.

While this still to be officially confirmed, there is no question Prime Minister Ranil Wickremesinghe's understanding of international politics is outstanding and he is held in high esteem by senior politicians like Senator McCain and Collin Powell (both have told me in person), therefore the Prime Minister giving directions on foreign policy is a good thing. But for a committee sitting outside the foreign office giving directions may lead to bigger conflicts between the Prime Minister's office and the Foreign Office.

Mangala and his Deputy Harsha are very capable people with a lot of energy and can articulate very well our political and economic vision overseas. Mangala unlike most other politicians has a lot of political acumen and therefore he needs to be empowered fully to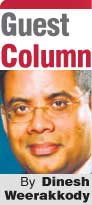 deliver and in return he needs to up his game. However, there is no question the foreign policy for the country must be determined by the President in consultation with the Prime Minister and the Cabinet of Ministers supported by a competent foreign service.

Revive the Ministry

During the last administration, of the 49 posts, 35 heads of diplomatic missions were filled with political appointees, and this practice turned the Foreign Service into a branch of the UPFA. The politicisation of the Foreign Service led to the dismal state in the foreign relations sphere in the country.

Diplomacy plays a direct role in addressing the root cause of insecurity. Diplomatic initiatives build partnerships so that nations can work together to address bilateral and multilateral issues. Diplomacy refers to communication or negotiations tactics that use political and legal channels to address both bilateral and multilateral issues.

Good diplomacy works at least in four ways a) to protect a nation's security, b) to stop potential threats from becoming real, c) to secure a nation's economic future and d) to protect the global environment. Therefore, members of the Foreign Service play a crucial role in making the kind of lucrative international connections/agreement possible to help a country to look good and in the pursuit of economic objectives.

Diplomats need to help to set up partnerships and relationships all around the world so that a country can understand the global issues, maintain global competitiveness and to capitalise on the opportunities globalisation creates.

Diplomacy used to be thought of as the quiet, behind-the-scenes, government-to-government communications. It's now so much more than that. In order for a country to promote the kinds of economic and trade policies they want around the region and the world, a country needs to have competent people to build a compelling case internationally for their policies, for their values and for their interests.

Therefore if we have issues as the newspaper suggests, Foreign Minister Mangala Samaraweera needs to get his act together fast and assemble a top team to redirect our foreign policy.

Foreign policy objectives

Foreign policy is often the bridge between a country and the world. In pursuit of our country's mission, we should therefore build and maintain a persistent foreign policy and conduct proactive diplomacy guided by principles, which are sustainable, and have continuity.

First, we should strive to build and maintain strong bilateral and multilateral relationships that will ensure Sri Lanka's role as a full-fledged and reliable partner in a new Asian resurgence. We should therefore establish stable and solid course of foreign policy, able to adjust to the rapidly changing environment. At the same time we should avoid sudden and surprising changes that might lead to new challenges for the continuity of our relations with certain countries.

Secondly, sustainability of steady and coherent foreign policy initiatives will depend on our ability to strengthen institutional foundations of the foreign policy so that we can deliver on the promises we make at international forums. This will allow our allies and friends to engage in mutually beneficial, durable and trusting bilateral and multilateral relationships.

Third, our foreign policy should focus on continuity of national interests, which is based on consistent consensual priorities to be promoted internationally. These principles if pursued will enable Sri Lanka to become a credible and trusted partner, while remaining devoted to their national interests and also promote their economic ties at the same time.

Therefore, the officials appointed to promote Sri Lanka's interest abroad should from now on as far as possible be people who have the skills and competence to focus on economic diplomacy to secure our core national interest. That would require for the service to have a mix of top quality non-career and career diplomats with good academic pedigrees and technocratic mettle and with character, integrity and helicopter quality to drive our political and economic agenda.

Moreover, given the economic and socio political shift that has occurred in the international scene and the need for active international engagement, which is basically leveraged upon the pursuit of economic objectives, promoting good diplomacy can increase our ability to play a constructive role in building a more peaceful, prosperous region, for us and others. In addition, the Foreign Ministry needs to rebuild the trust and goodwill that our foreign service had built over the years.

Conclusion

Reviving the Foreign Ministry is a good thing and this is one of a number of measures Premier Wickremesinghe has taken in a bid to revive the Foreign Ministry which was found to be floundering. The newspaper says he met relevant ministers and senior officials of the Ministry at his office in the Parliament complex this month and was bitterly critical. He said in the past one year "the Foreign Ministry had done little or nothing".

Premier Wickremesinghe had told the Sunday Times most diplomatic missions overseas were ineffective in many ways and did not report adequately on different aspects. This included the economy and foreign employment. He said the Lakshman Kadirgamar Institute for International Relations and Strategic Studies would be elevated to a degree awarding institution under a programme.

According to the Sunday Times, the Global Affairs Committee is expected to play a pivotal role in the working of the Ministry by guiding the Ministry on bilateral issues but also on multilateral issues and other matters that are of interest to Sri Lanka.

Let us hope the so-called Global Affairs Committee does not end up doing more damage to our existing bilateral connections and the foreign service like what happened during the previous regime via a committee led by a monitoring MP.

A good practice adopted in many other countries is to have an advisory board consisting of top quality retired foreign service professionals acting as a sounding board for the minister; that would certainly be a better option than creating another structure, delaying decision making further.
(The writer has authored two books titled 'Selected Essays on Foreign Affairs,' Part 1 and 2.)