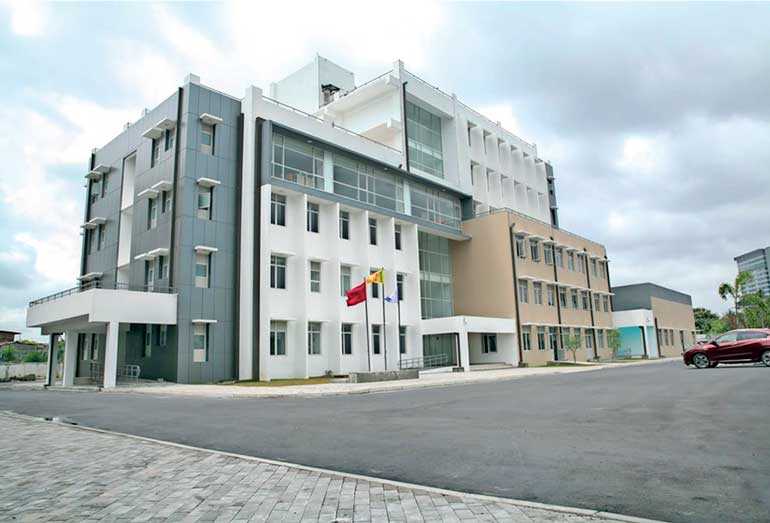 KTEC Orugodawatta
---
In the 1960s, Lee Kuan Yew, the eminent leader and founding father of Singapore, once said that he wants to build Singapore as Sri Lanka. But what has happened today? Sri Lanka is lagging behind Singapore in many aspects. Singapore has no natural resources like other developed countries, the only major resource she has the human resource. A country which effectively invests in human capital leads to dynamic growth and development of the economy. Leadership is also considered as one of the most important components of human resource.

Asia Skills Leaders Forum for the year 2017, organised by the Institute of Technical Education Services (ITES) and the Subsidiary of Institute of Technical Education Singapore, delivered speeches by the experts and study visits to the Institute of Technical Education (ITE) Central, West and East colleges. About 60 TVET Leaders from 16 countries in South, East and South-West Asia participated in this forum.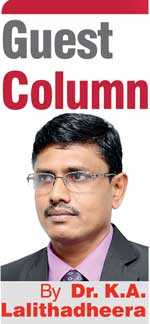 Singapore is known as the "red dot" in Asia, having a total population of 5.6 million. It is well-known for having the highest per capita income in the world, since it reached up to $ 52962 in 2016. Singapore maintains a remarkable unemployment rate of 2.1%, due to its efficient human resource development system. A well-developed school education and vocational training system is functioning under the purview of the Ministry of Education. Further, it has an integrated system for education, TVET, and industry. Singapore has five development stages from the 1960s, and TVET system has been updated accordingly.
Labour-intensive economy (1960's)
Skills-intensive economy (1970's)
Technology and capital-intensive economy (1980's-1990's)
Innovation and knowledge-intensive economy (2000's)
Diversification of economy - manufacturing and services sectors as twin engines of growth (1990's – 2000's)
Singapore education and training system

After the completion of six years of primary education, students have four paths to choose the secondary education mentioned below. Most of the students in the secondary express category are directed to universities, and students in secondary normal academic group are directed to polytechnic colleges. The rest of the students in the secondary normal technical group enroll in ITE.
ITE in Singapore

ITE is the training delivery organisation of TVET in Singapore, and it provides National Institute of Technical Education Certificates (NITEC). Every child has access to 10 years of general education before the post-secondary education. TVET, which is an important pillar of Singapore's education and training system, was formed in 1992 as a post-secondary institution. It is the largest publicly-funded post-secondary education institution in Singapore, providing 2-3-year career and technical education and training. There are three perfectly-developed colleges as mentioned below. Annual full-time enrolment for the three colleges is around 28,000, while the part-time enrolment is about 25,000.

1. ITE College East (2005) 'College of Enterprise and Innovation' - School of Design and Media

2. ITE College Central (2013) 'College of Creativity and Innovation' - School of Applied and Health Sciences

3. ITE College West (2010) 'College of Service and Innovation' - School of Hospitality
According to ITE Trailblazer 2015-2019, it has four major goals:
Goal 1: adaptive system, dynamic curriculum
Goal 2: engaging pedagogy, empowered learning
Goal 3: holistic experience, well-rounded students
Goal 4: strategic collaboration, passionate people
Expected outcomes are confident and well-rounded students, career-ready and world-ready graduates, passionate and professional staff, and engaged and valued partners.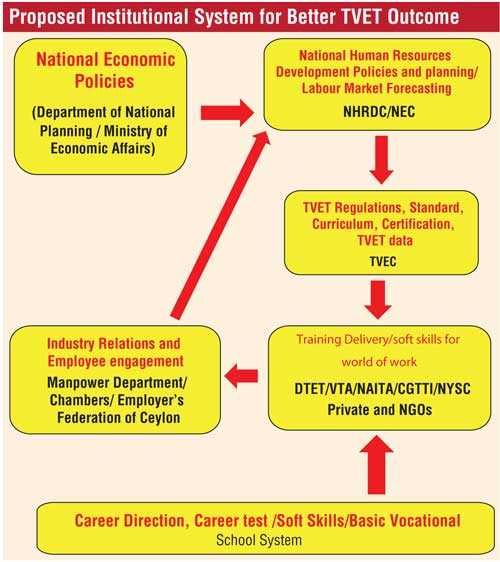 Success behind the TVET

Economic restructuring is an endless journey. Market-oriented national manpower planning, innovation and industry-relevant TVET is the key to the economic growth.

There are six strategic thrusts in skilled manpower development for industry.

1. Market oriented planning

2. Adaptive training system

3. Capability development

4. Transnational co-operation partnerships

5. Practice and application oriented training

6. Regional and international orientation

Singapore's TVET is a good success story in Asia, and the key success factors affecting well developed skilled manpower system are as follows:

1. Strong Government commitment

2. TVET developed in tandem with economic development

3. Work-based career-oriented curriculum

4. Learn from others but adapt to local needs

5. Long-term strategic TVET planning

6. Adaptive TVET system to attract FDI

7. Provide incentive and legislation to attract industry to support TVET

8. 'Whole-of-Government' approach to TVET planning, development and implementation

9. Visionary TVET leaders
Way forward

The challenges are more difficult to address. There is no one universal model. Each country will ultimately need to carefully assess and decide on the TVET system that it considers most relevant in meeting its national strategic and sustainable development goals. The TVET system of Sri Lanka should further develop, taking lessons from Singapore and other successful countries, but they should be adapted to local needs. As such, the Singapore experience is not the same as compared to some of the more developed economies in Asia such as Japan, Korea, and Taiwan. However, the different systems continue to be relevant and responsive in a rapidly changing global environment.

The TVET system should function within the education system, or it must closely relate with the general education and the industries. One fundamental principle is the need to ensure that the TVET system is closely linked to the national economic development agenda. Furthermore, a vocational training delivery system needs to revamp the main structure, reducing the overlap, and should come under the one apex body. Inefficient training centers need to be wound down, and merged with the major training institutes. It is recommended to strengthen the training centers with at least 10 or more training courses, as a modern training center links with schools.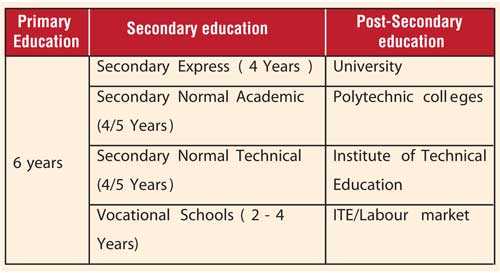 There is also a need to adapt key success factors of Singapore, such as strong Government commitment, TVET developed in tandem with economic development, work-based career-oriented curriculum, learn from success stories but adapt to local needs, implement long-term strategic TVET planning, adaptive TVET system to attract FDI, provide incentive and legislation to attract industry to support TVET, 'Whole-of-Government' approach to TVET planning, development and implementation, Visionary TVET leaders are needed, Institutional framework needs to strengthen. TVEC as a regulatory body in the sector should decentralise its service and revamp the organisational designs toward an efficient service delivery.

Research and policy planning of the TVET according to national economic development policies should be done by an organisations such as National Human Resources Development Council of Sri Lanka (NHRDC) and the NEC. It is a crucially important role for TVET to align with the economic development plan of the country, whilst strengthening the employers' engagement and link with TVET and industry through Department of Manpower (DM). That should also be the system thinking approach, and it will be the most important competency for the Government officers for sustainable development and fast growth.
[The writer, (PhD (Economics), MA(Economics), FCMA), is Director, National Human Resources Development Council of Sri Lanka, Ministry of National Polices and Economic Affairs. He has participated to Asia Skills Leaders Forum for the year 2017 which was organised by the Institute of Technical Education Services (ITES), Subsidiary of Institute of Technical Education Singapore. This article was prepared with the aim of sharing knowledge and experience gained from the forum as well as 25 years' experience in the TVET Sector.]