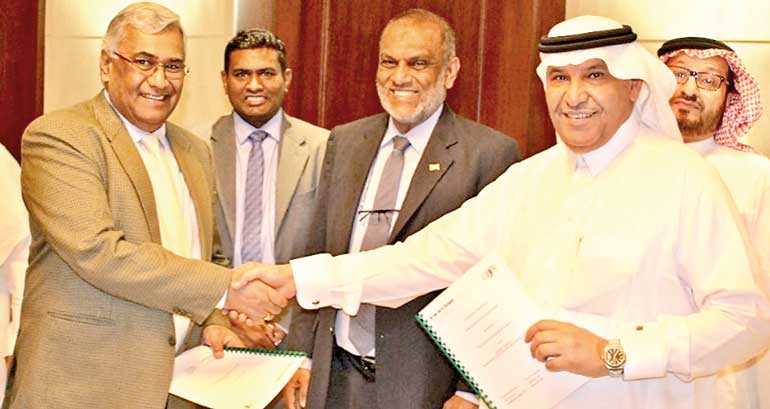 Selmo Ltd., from Sri Lanka, signed a financing agreement with the Saudi Export program (SEP) to import raw material-related products from Saudi Arabia to Sri Lanka on long-term credit basis.

This marks the first agreement signed by a Sri Lankan entity with the SEP to obtain the financing line facility, following the business delegation organised by the Ceylon Chamber of Commerce to Saudi Arabia in November 2017. An agreement of bilateral cooperation between the Ceylon Chamber of Commerce (CCC) and the Council of Saudi Chambers of Commerce too was signed on 8 December 2017.

The agreement was signed by Selmo Managing Director Anton Hemantha with Saudi Export Program Director General Ahmed Al-Ghannam, and witnessed by the Sri Lankan Ambassador to the Kingdom of Saudi Arabia Azmi Thassim.

During the signing ceremony, Director General Al-Ghannam stressed that this program is soon to be converted as the Saudi Arabia Exim Bank.

The Saudi Export Program is the arm under the Saudi Fund for Development to finance non-oil exports from Saudi Arabia to other countries on the long-term credit basis, especially raw material-related items, giving most competitive advantages to private companies to produce their products at a lower cost and export them to other countries. Several other countries have already become partners with the SEP.

Under this scheme, the SEP opened its credit facility for a large number of non-oil products from Saudi Arabia and more importantly, raw material-related products for Sri Lanka.