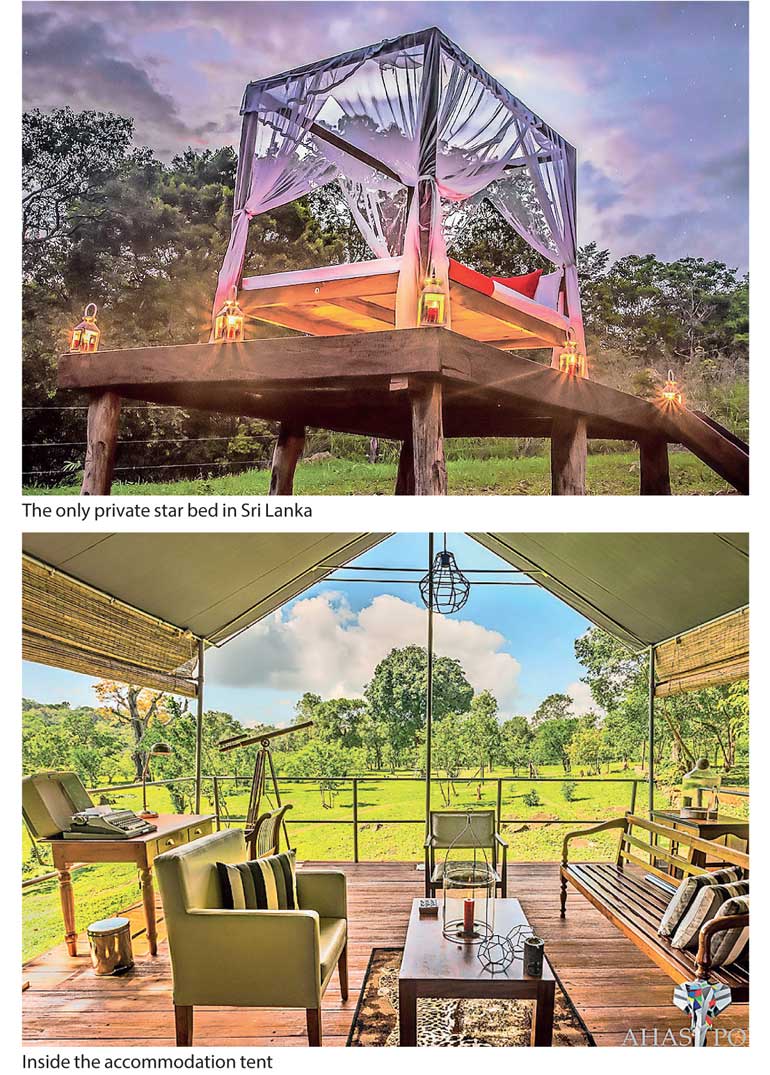 Sri Lanka's first, all-suite, luxury, private bush walks camp
Diving into the history of the hill capital of Sri Lanka and the times when the Kandyan Kingdom was in uproar over the treaty signed with the British in 1815 and the subsequent breach of contract by the colonial masters, one finds the story of a family who had to withdraw to the jungles in the intermediate zone to avoid a complete massacre. With them were several loyalists and their families who created a new settlement and lived in harmony with the nature that surrounded them.

It is in this vicinity that Anuruddha Bandara; a pioneer in many tourism innovations and a fourth generation rebel descendent, created Sri Lanka's first, all-suite, luxury, private bush walks camp, Ahas Pokuna. A lake that is fed entirely by rain waters is credited for the name of the locality, 'Ahas' being sky and 'Pokuna' being lake in the Sinhalese language. On the shores of this waterway is a wilderness retreat that allows guests to become one with nature and enjoy a tranquil holiday experience like no other.

Situated within a 2,300 hectare nature reserve, Ahas Pokuna is a 30 acre private reserve and houses three luxury suite tents complete with an arrival deck, sleeping tent, luggage and powder lounge, a fully-fledged bathroom tent that has hot and cold water, romantic star bed/day bed for relaxation or sleep during the day or night, and the first-ever bush bath tub in Sri Lanka. All of this overlooks the grassland in the 1,000 square metres of private space protected by an elephant fence that is yours to enjoy during your stay. Ahas Pokuna is the only property in Sri Lanka that has a private star bed for each accommodation unit, making it one of the most ruggedly romantic locations to stay at.

For meals, guests need to take a short walk to the dining tent for contemporary, improvised Sri Lankan dishes that are prepared in true village style using local produce. The camp also offers outdoor dining, a highlight of wilderness living, to the light of a central campfire, accompanied by the sounds of the night. Before dinner, guests sit around the campfire with a bottle of wine and talk to the naturalists about the day's walks or their experiences in the wild.

And what an experience it is. The camp itself can only be reached 30-minutes by foot. To ensure that guests have a true wilderness experience, the Eco Team has put together bush walks and treks that focus on wildlife that are rampant in the area. There are many endemic and migratory birds as well. All "walks" are accompanied by experienced trekkers who know the forest paths and the best places to spot wildlife in their natural habitat. For those who dare to venture out at night, 'night walks' are customisable for fascinating views of the animals who come to quench their thirst at the waterhole under the cover of darkness.

Each of the camps has ample space for three persons, and the property has three such units for the moment keeping it intimate and simple. The limited accommodation also ensures maximum privacy and serenity for an undisturbed getaway. To truly experience the tranquillity of the great outdoors and bask in all that nature has to offer, Ahas Pokuna also arranges for yoga and massage sessions conducted by highly-skilled trainers and Ayurvedic treatment specialists. Established in December 2016, the bush-walks camp is another first by Eco Team who also pioneered tented safari to Sri Lanka in 1998, and introduced the first mobile hotel and first carbon neutral camp in Sri Lanka.

For more information and to make reservations, visit its website www.ahaspokuna.com.