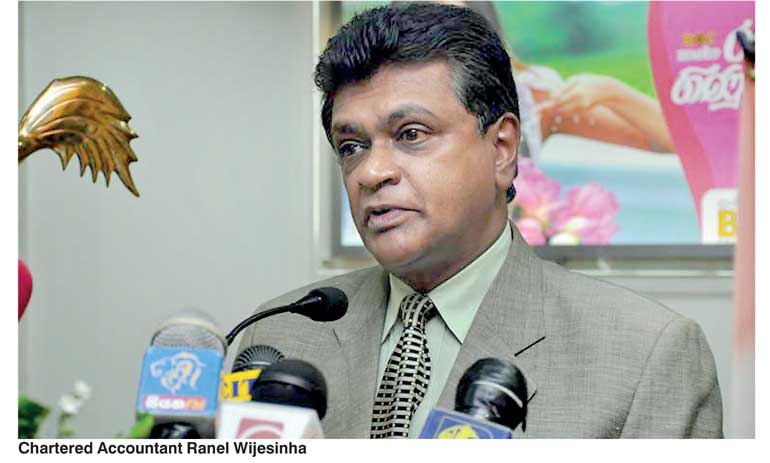 "We need to restructure, reskill, capacity build and reposition our public sector institutions"
Speaking to the Daily FT, against the backdrop of the 'Growing with Giants' forum at the Cinnamon Grand, Chartered Accountant Ranel Wijesinha, an Independent Management Consultant, who also serves as a Director of State-owned and highly-profitable Bank of Ceylon and a Commissioner of the Securities and Exchange Commission, emphasised the need for the incumbent Government to review, restructure, reskill, capacity build and reposition public sector institutions, if we are to truly realise or leverage even part of the potential of the much-spoken-of abundant opportunity vis-à-vis, the 'One Belt, One Road' initiatives, or trade and investment with China, India or any other.
Ministers, ministries need a wholesome partnership with public officials
"I am encouraged that as a nation, we have over the last two-and-a-half years, rebuilt bridges with the rest of the world, regained credibility and friendships that were bruised, restored mutual respect with the leaders and the people of many countries and with multilateral development partners, such as the IMF, the World Bank, and the ADB. However, all this must now translate to tangible results and the Cabinet of Ministers, State Ministers, or Deputies with or without a reshuffle cannot do it alone. We need a coalition of stakeholders, between Ministers, Ministries, public officials and private investors. There has to be a wholesome alignment of interest."
Public sector institutions – building capacity, catalysing facilitation
"Whether it is to attract Foreign Direct Investment through the Board of Investment or foreign portfolio investment through our capital market and the Colombo Stock Exchange, or to negotiate trade agreements with the Department of Commerce, Ministry of International Trade and Development Strategies, or a Public-Private Partnership through the new PPP unit of the Ministry of Finance, we must build capacity and capability within our institutions, on a priority basis. We need an adequate number of up to date and aware, qualified, skilled, competent people, who work with a sense of urgency and a level of seriousness if we are to leverage the opportunities that we speak of at various times. We need 'facilitation cells' in public institutions, who are well qualified, skilled and equipped to make things happen for the private sector.

"For example, how much do we allocate to train, develop, and deploy people of public sector institutions. Not only the heads of institutions, and departments alone but a large cross section of people, should be reskilled say by rotation. How much of unlearning and relearning are they exposed to? How much succession planning do we have in the public sector?"
Beyond rankings, making things happen
"There were many references to statistics and rankings at the sessions today. It is 17 years since we as a country, first submitted to the World Economic Forum's GCR or Global Competitiveness Rankings (GCR) and also many years after we submitted to Doing Business Rankings, and year after year, through Rankings of Factors and Sub Components of Competitiveness, we learned what are shortfalls or gaps were, whether about banking or legal infrastructure, inter alia, cost of funds, or interest rate spreads, or about delays in the settlement of commercial disputes. These statistics no longer break or make my thinking. We need to do something about it."
A personal note, on public sector institutions
"On a personal note I consider it a privilege to play a part at institutions such as the Bank of Ceylon, and the Securities and Exchange Commission. It is easy to help build a better bank, when it has already substantially been on the right track with a number of outstanding, very cooperative, committed and dedicated people. At the SEC, for example, It is a pleasure indeed to be among intellectually abundantly gifted, truly committed, intensely dedicated professionals, as Commissioners, together with whom, I may make bold to say that we have over the past two plus years, been able to restore public confidence, in the regulator, re-earned respect and helped rebuild a capital market which is better regulated and clearly now a platform and a conduit for significant domestic and foreign portfolio investment."

"May I make bold to say that the ball is now in the court of Government, to leverage the work of the SEC, the capital market, and the CSE, to undo the domestic and foreign debt burden, and to boost the depth, breadth and size of the market and the value of its capitalisation. As for the BOC or whether the Hilton, or the SLIC, these are all candidates for part divestment. We are now in our third year of significant hours of near gratis contribution. If the country does not leverage the value of the 'rebranding' the President, and Prime Minister in particular have made happen, and what many private sector nominees on boards and seasoned and respected public sector officials have helped make happen, our work will have been in vain. Time is of the essence. Windows of opportunity do not remain open to perpetuity. There is a time to make things happen. That time is now," Wijesinha concluded.