Two multilateral institutions assure support for Sri Lanka's fiscal policy reforms, development
First Vice Presidency of G24 Finance Ministers' Council offered to Sri Lanka
World Bank agrees to send a special team to Sri Lanka to inspect solid waste management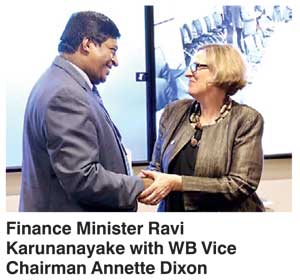 Finance Minister Ravi Karunanayake said yesterday the current economic performance of Sri Lanka was given special praise during the ongoing biannual summit of the International Monetary Fund (IMF) and the World Bank (WB) at Washington DC.

Karunanayake participated in the G24 Finance Ministers' meeting and the current economic performance of Sri Lanka was discussed at the meeting.

The first post of Vice President of the G24 Finance Ministers Council was offered to Minister Karunanayake.

"This is a big achievement of the country," Finance Minister Karunanayake said in a statement. He said the discussion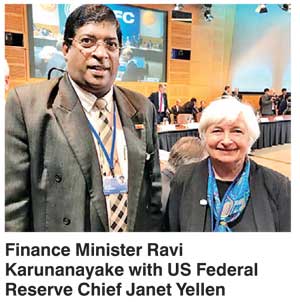 held with IMF Deputy Managing Director Mitsuhiro Furusawa was successful.

The Finance Minister also met WB Vice Chairman Annette Dixon. During the meeting with Dixon, she said the WB praised the economic development performance of Sri Lanka. She also said that the WB and International Development Institute will assist Sri Lanka further in the future to continue its development.

On the sidelines of the biannual summit, Finance Minister Karunanayake and his delegation had had successful discussions with the Chairperson of US Federal Reserve Janet Yellen. In addition, the Sri Lankan delegation held discussions with senior US Treasury officials.

The Sri Lankan delegation, led by Minister Ravi Karunanayake, included Treasury Secretary Dr. R.H.S. Samaratunga and several senior officials attached to the Ministry of Finance and the Central Bank.