International Blockchain Remittance Platform OKLink to share how to revolutionise Sri Lanka's remittance sector at BankTech Asia Sri Lanka
The Sri Lankan economy is heavily reliant on foreign employment and over the years it has become one of Sri Lanka's dominant sub-sectors of the economy. Sri Lankan migrant workers form the largest source of income in terms of foreign exchange which makes up to 9%-10% of the country's GDP. While the remittance inflows of many other countries are projected to decline, the World Bank's Migration and Development study in 2016 indicated that Sri Lanka's remittance inflow is poised to grow another 1.6% in 2017

Despite its importance to the economy, the industry still largely relies on antiquated systems that are heavily reliant on informal channels, brick and mortar infrastructure along with the need for pre-funding. Based on the World Bank's estimate, it is widely believed that 50% of remittances are done through informal channels which have exorbitant fees that can go as high as 10%-15% of the principle.



To the average migrant worker, paying 10%-15% on every dollar remitted back home can prove to be a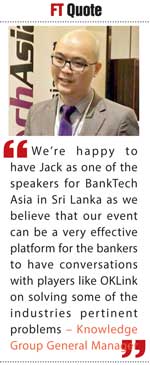 less than ideal situation. Enter blockchain, heralded by many industry experts as one the most important innovations since the internet. Blockchain is poised to solve this issue, and provide banks the opportunity to offer remittance services to the migrant population with significantly reduced cost and improved efficiency.

With that in mind, the international conference organisers of BankTech Asia has invited Jack C. Liu, the Chief Strategy Officer of the international blockchain remittance network, to share with bankers in Sri Lanka how they can help the banks to revolutionise the remittance services offered by the banks.

"We're happy to have Jack as one of the speakers for BankTech Asia in Sri Lanka as we believe that our event can be a very effective platform for the bankers to have conversations with players like OKLink on solving some of the industries pertinent problems"– Knowledge Group General Manager Vincent Fong.

BankTech Asia Sri Lanka is organised by Knowledge Group of Companies and will be held at Taj Samudra Hotel from 21 to22 March. More information on the event can be found here: http://www.banktechasia.com/9th-banktech-asia-sri-lanka-series/.

BankTech Asia is one the longest running fintech and banking technology event in Asia with nine years of track record in keeping bankers and fintech professionals abreast with the latest trends and threats. BankTech Asia has been hosted in several Asian countries like Philippines, Indonesia and Malaysia.

OKLink is a blockchain money transfer network committed to making small-valued cross-border transfer instant, cheap and secure, while enhancing the global remittance user experience. The platform is built on the trust of the blockchain, using stable and native digital assets to settle among participants in an instant, secure, and transparent manner. OKLink is growing rapidly with services currently available in 20 countries across Asia, the Americas and Africa.