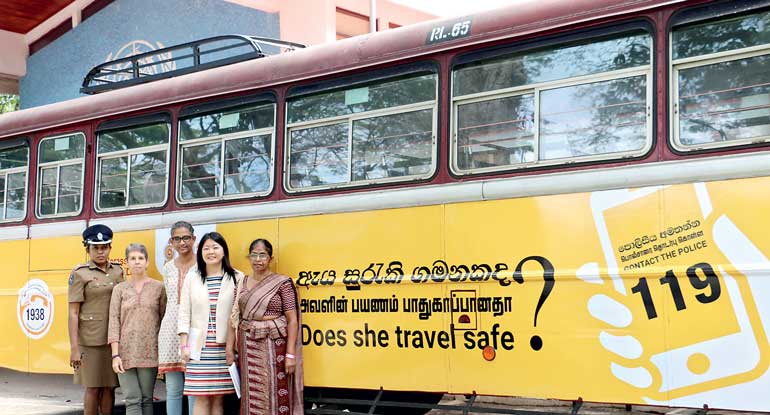 From left: Head of Children and Women's Bureau of the Sri Lanka Police ASP. L.R. Amarasena, United Nations Resident Coordinator Una McCauley, Activist Paba Deshapriya, UNFPA Sri Lanka Representative-designate Ritsu Nacken and National Committee on Women Chairperson Swarna Sumanasekara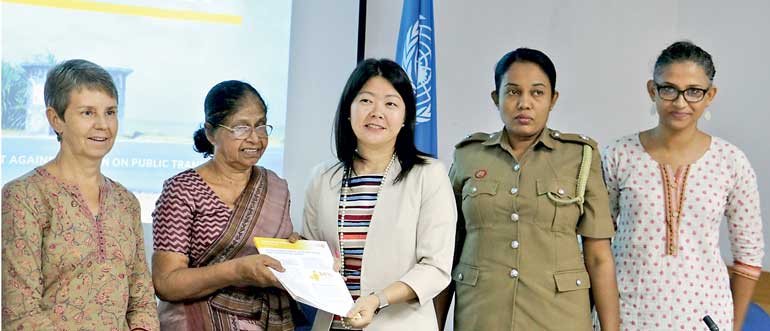 UNFPA Sri Lanka Representative-designate Nacken officially hands over the UNFPA Policy Brief titled 'Sexual Harassment Against Women on Buses and Trains' to National Committee on Women Chairperson Swarna Sumanasekera
Sexual harassment violates basic human rights and contributes to a culture that discriminates women and girls, affecting them physically, psychologically and economically. It is an issue faced by women globally, and may occur in varying degrees of physical and verbal abuse, even leading to incidents of rape.

The findings of a nationwide study commissioned by the United Nations Population Fund (UNFPA) revealed that 90% of women and girls in Sri Lanka have been subjected to sexual harassment on public buses and trains. The findings also revealed that only 4% sought help from the Police.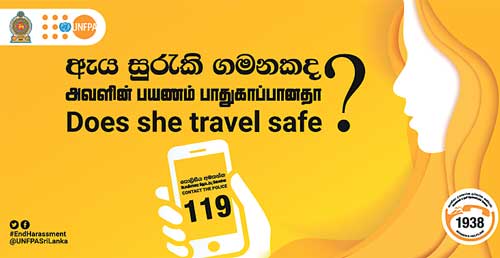 UNFPA commissioned the national study in 2015, with a sample of 2,500 women and girls between the ages of 15 and 35 years, from all administrative districts of the nine provinces in Sri Lanka. Data was collected through stakeholder consultations, key informant interviews and questionnaire surveys.

Addressing the issue as a national priority, UNFPA in partnership with the Ministry of Women's and Child Affairs, Ministry of Transport and Civil Aviation, the Prime Minister's Office and the Sri Lanka Police launched a public advocacy campaign titled 'Does she travel safe?' (weh iq/ls .uklo? mtspd; gazk; ghJfhg;ghdjh?).

To launch the campaign, UNFPA convened a press conference in Colombo, this morning. Members of the head table included United Nations Resident Coordinator Una McCauley, UNFPA Representative-designate Ritsu Nacken, Chairperson of the National Committee on Women Swarna Sumanasekara, Head of Children and Women Bureau of the Sri Lanka Police L.R. Amarasena and activist from Grassrooted Trust Paba Deshapriya.

At the press conference, UNFPA presented a policy brief on the issue of sexual harassment against women in public transport, with suggested policy recommendations. A presentation on the survey findings was also made by UNFPA Program Analyst Sharika Cooray.

The presentation highlighted that three individuals can trigger positive change:

1) The victim – by speaking up and taking action.

2) The bystander – by intervening and extending support.

3) The perpetrator – by not inflicting any such harassment.

The desired state will require long-term advocacy and strategic behavior change communication programs on a large scale.Emphasising on the importance of addressing this social issue, UNFPA Representative Nacken said: "Sexual harassment against women on public transport is one form of gender-based violence. In order to address the issue of gender-based violence at large we must gather nationwide data to assist in the formulation of evidence-based policies. This study is a first step towards gathering GBV data in Sri Lanka."

The campaign delivered by UNFPA is part of the Ministry of Women's and Child Affair's national celebrations to commemorate International Women's Day in March 2017.