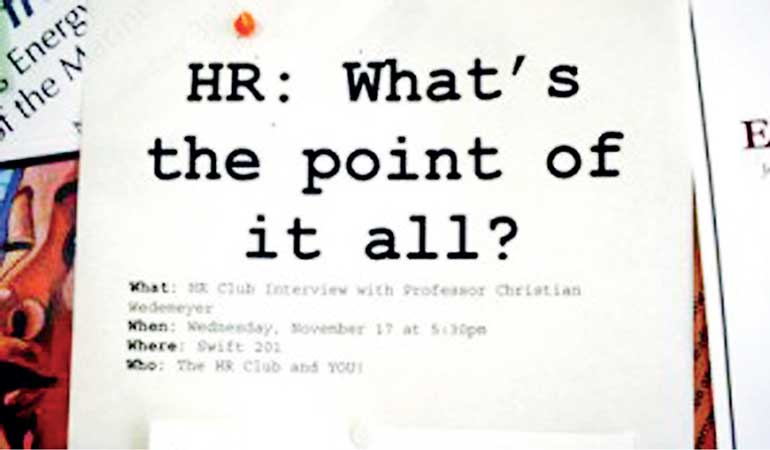 By Navin J. Karunatilaka

There is a lot of talk about HR having a seat at the table; about how important Human Resources is in today's business environment and the vital and strategic contribution the Head of HR can bring to the organisation's decision-making process. Unfortunately, this would at best just add another seat to an already crowded corporate head table.

No doubt Human Resources is one of the most important areas in an organisation. However, few HR leaders are capable of making a useful contribution at an organisational level. This is because most HR professionals are simply put only HR professionals. They lack operational knowledge and think HR should exist for HR's sake. Whilst art for art sake might work for some, HR for HR sake is just the fulfilment of an administration function.

Unfortunately, most HR professionals are under the impression that the HR department is there to facilitate a comfortable work environment whilst furthering organisational development. This is far from the truth. Any idea or suggestion that stems from this type of background would only make things worse for the organisation. HR leaders must realise that there is no intrinsic value in HR. There is only value in profits and short-term as well as long-term growth. The HR department is there, like all other departments to facilitate higher profits and growth. The HR department and the HR leader is a person who facilitates and drives profit and growth like every other employee.

During the time, Jack Welch was CEO of GE he fired the bottom 10% of his organisation every year irrespective of the fact the employees met their expectations or not. He got rid of any under-performing employee within the first three months. He also sold off any business unit that failed to be either number 1 or 2 in terms of market share. Is it harsh or even cruel? Maybe. But that is strategic HR and strategic business! Jack Welch was CEO but he is probably one of the best HR leaders ever. He understood the operations of his business units, he was deeply involved in their operations whilst developing a great team to run the units, his decisions were based on sound financial considerations and he had a great eye for potential.

Now that does not mean that every HR leader must be a Jack Welch. Even most CEOs fail that test. What it means is that if anyone in HR or Finance (for that matter) is to have a seat at the table and make a useful contribution, she or he must be deeply involved and have an understanding of the operations of the organisation.

HR leaders must know how the company sells its products and services. They must work closely with the sales, production (or technical as the case maybe) and logistics. It is important to acquire the basic skills necessary to deal with the organisation's Distributors and if required, do a sale. It is equally important to then understand how that process translates into the company's balance sheet and the P&L. HR leaders must know how to manufacture a product (or service) at the lowest possible cost and sell at the highest possible amount whilst maintaining quality standards.

HR leaders must be aware of the organisation's competitors and market conditions. Then they can start implementing processes and procedures to attract suitable talent, retain them and grow the organisation. The input of such an HR leader will be valued by any CEO and obviously deserve a place at the table.
(The writer is Observation Analyst at Accenture Canada. Article extracted from internet).