The Sri Lanka Institute of Directors' (SLID) and IFC, a member of the World Bank Group, partnered to organise an exclusive Corporate Governance Board Leadership Training of Trainers (ToT) workshop for SLID's facilitators already providing or interested in delivering corporate governance training to directors and senior leaders in companies, including banks and financial institutions.

The workshop was conducted as half day sessions of interactive training, and participation across the three days was a clear indication of participant's commitment to SLID's flagship training, the Board Leadership Director Certification Programme.

The Board Leadership Director Certification Program currently in its 4th intake, is an in depth course covering the essentials on Board Stewardship and the attributes required to lead a business whilst enhancing board performance and decision making. The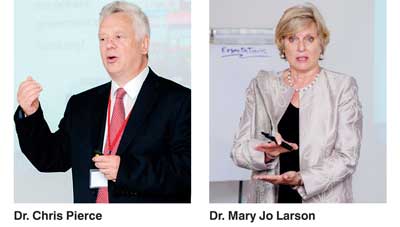 course, based on the IFC Corporate Governance Board Leadership Training Resources toolkit (Toolkit), includes relevant content applicable for Sri Lanka by SLID facilitators, and is accredited by the Securities & Exchange Commission of Sri Lanka (SEC). It is delivered by SLID's facilitators who are renowned business personalities with real-life experience in their respective fields.

IFC provided the resource persons to deliver the workshop: Dr. Chris Pierce, a corporate governance expert and a co-author of the Toolkit; and Dr. Mary Jo Larson, an adult learning and leadership development expert and also a co-author of the Toolkit. Having delivered the TOTs in over 25 countries, both resource person were tremendously pleased with the level of knowledge and experience of the participants. At the end of the workshop, Dr. Pierce expressed "I congratulate everyone concerned with the organisation and delivery of the course. I believe that the programme was an excellent and productive learning experience for us all."

Good corporate governance helps companies operate more efficiently, improve access to capital, mitigate risk and safeguard against mismanagement. It makes companies more accountable and transparent to investors and gives them the tools to respond to stakeholder concerns. "IFC's partnership with SLID is helping the adoption of good corporate governance practices and standards in Sri Lanka," said Graeme A.Harris, Senior Operations Officer, IFC Sri Lanka.

Chris and Mary Jo conducted the workshop using and explaining interactive adult learning methods, enabling the participants to improve their knowledge base and skill sets to lead director education programs that reflect international best practices adapted to the Sri Lankan context.

This workshop built on the SLID facilitators' capacities, to create an interactive and unique learning environment for the SLID Board Leadership Director Certification Programme to broaden the range of knowledge and skills of directors who are able to improve corporate governance performance in businesses in

Sri Lanka.