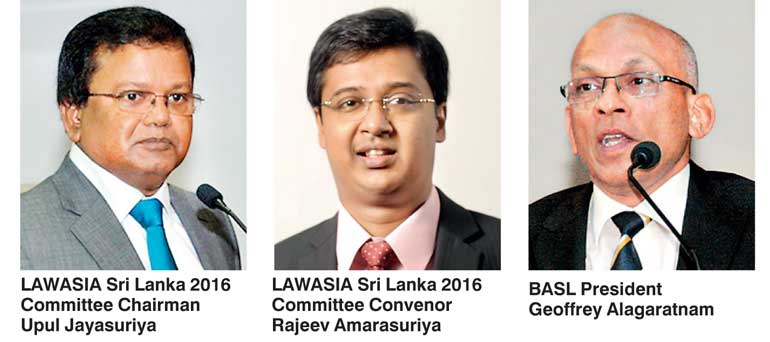 The theme of the historic LAWASIA Golden Jubilee Conference and Celebrations to be held from 12 to 15 August in Colombo will be '50 Years of Supporting the Rule of Law,' said LAWASIA – Sri Lanka 2016 Committee Chairman Upul Jayasuriya recently.

This is the third occasion that Sri Lanka will be hosting this prestigious conference, having initially hosted it in 1979 and then in 1993, but this year's conference is particularly significant as it is in the Golden Jubilee year of LAWASIA which is an international organisation of legal associations, individual lawyers, judges, legal academics and others, which focuses on the interests and concerns of the legal profession in the Asia Pacific region.

Established in 1966, LAWASIA comprises over 40 member organisations and has individual members from more than fifty countries world-wide. Its mission is to promote universally high standards of legal practice and continuing legal education, to be a voice of the legal community of the region, to uphold the rule of law and to protect human rights across the diverse range of political, cultural, social and economic context of the Asia Pacific Region.

He further commented that prior to 8 January last year, Rule of Law in the country was in shambles and the independence of the judiciary was compromised, and it was the Bar which was resilient and led civil society without fear, in ensuring that change took place. It was in this backdrop that the LAWASIA Executive Committee decided to hold the Golden Jubilee celebrations in Sri Lanka.

Bar Association of Sri Lanka President Geoffrey Alagaratnam, PC expressing his views said that Sri Lanka has not only survived a civil strife of three decades but in the last year bounced back with the firm affirmation that we need Rule of Law and democracy and above all the right to live a decent life where all our people are truly equal living in dignity with true peace and freedom enveloping our society.

It is especially significant that the Bar Association of Sri Lanka is hosting LAWASIA in this Golden Jubilee year and more so when Sri Lanka is today a democracy in transition striving towards better governance. He went on to state that the Bar has and is seeking to play a greater role in governance and Rule of Law. It is therefore important for us and all possible efforts are being made to make this event meaningful relevant and a resounding success.

Speaking from the organisational aspect of the Conference, Conference Convenor Rajeev Amarasuriya said a large committee of very distinguished lawyers were working round the clock on the organisational aspect and that this is a special occasion for the whole of Sri Lanka which has been vested with the responsibility of hosting this premier international legal conference in the Golden Jubilee year.

He further stated that the inauguration of the conference will be on 12 August which will be at the BMICH and is due to be attended by the President, the Prime Minister and several Chief Justices from the LAWASIA Member Countries including the Chief Justice of Sri Lanka, other dignitaries and over 600 delegates, including over 300 foreign delegates.

The Technical Sessions will commence on 13 August and go on until 15 August and will cover areas including criminal justice, human rights, constitutional law, bar issues, energy and resources, intellectual property, legal education, environmental law, public law, wildlife exploration, judiciary, IT and data protection, family law, political rights, media law, corporate securities, banking and finance, employment law, taxation and risk management, through plenary and breakup sessions.

The Chief Justices in attendance are due to have a parallel Chief Justices' Meeting on 13 August, which will also be of great significance to Sri Lanka.

Several night functions have also been lined up on each day of the conference, including an inauguration reception, Sri Lanka night, gala dinner and dinner dance which will focus on the celebratory aspect of the Golden Jubilee of LAWASIA and provide an ideal opportunity for networking between the delegates who would be representing over 50 countries. This will also provide an opportunity of showcasing Sri Lanka to a group of thought leaders from around the world.

The LAWASIA – Sri Lanka 2016 Committee comprises Chairman Upul Jayasuriya, Convenor Rajeev Amarasuriya and Members Geoffrey Alagaratnam, PC (President BASL), Saliya Peiris (Deputy President BASL), Amal Randeniya (Secretary BASL), Dinoo Dharmaratne (Treasurer BASL), Rajitha Hathurusinghe (Assistant Secretary BASL), Yasantha Kodagoda, PC, Harsha Cabral, PC, Harsha Amarasekara, PC, Sarath Jayamanne, PC, Upali Gooneratne, PC, Kandiah Neelakandan, Ramani De Saram, Manilal Fernando, Anura Meddegoda, Shiranthi Gunwardane, Mahinda Lokuge, Hemaka De Alwis, S. Selvaskandan, Dilani Alagaratnam, Athula Perera, Indika Nagaratne, Nalani Manathunga, Trinesh Fernando, Himali Urugodawatte, Vijaya Gamage, Renuka Weerakoon, Javed Mansoor, Deshan Hewawitharana, Ishara Gunawardana. Harshini Mapatuna, Shivan Coorey, Dinesha De Silva, Eraj De Silva, Sandamal Rajapakse, Rajindh Perera, Janaka Basuriya, Pasindu Silva, Ruchira Gunasekera, Kalana Jayasuriya and Thuraisingam Prakalathan.

The Corporate Partners include Tokyo Cement, Bank of Ceylon, MAS Holdings, Dialog Axiata, Aitken Spence, Expolanka Holdings, Peoples Bank, Stassen Exports, Sri Lankan Airlines, Sirasa TV, Cinnamon Grand, The Kingsbury Hotel, the Hilton Colombo, the Galle Face Hotel and Sri Lanka Tourism.