International Chamber of Commerce Sri Lanka Chairman Keerthi Gunawardane during his visit to Switzerland had a fruitful meeting with International Chamber of Commerce Switzerland Secretary General Thomas Pletscher in Zurich. This was the first-ever such meeting between the ICC Sri Lanka and ICC Switzerland to discuss business opportunities available for the members in their respective countries.

The meeting was attended by Sri Lankan Trade Ambassador/PR of Sri Lanka to the WTO R.D.S. Kumararatne who was the former Director General of the Department of Commerce Sri Lanka, accompanied by Honorary Consul General for Sri Lanka in Switzerland Vidarshana Munasinghe.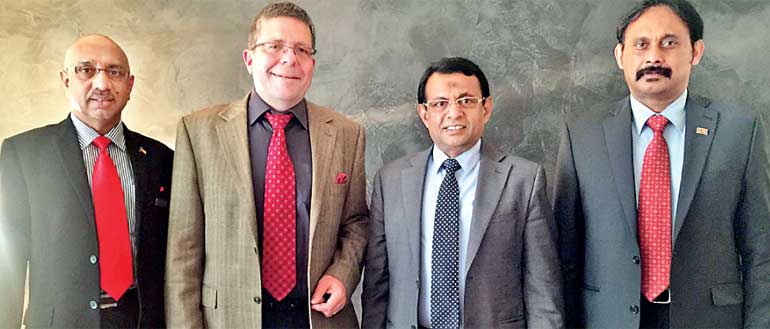 From left: ICC Sri Lanka Chairman Keerthi Gunawardane,ICC Switzerland Secretary General Thomas Pletscher,Sri Lankan Trade Ambassador/PR of Sri Lanka to the WTOR.D.S.Kumararatne and Honorary Consul General for Sri Lanka in Switzerland Vidarshana Munasinghe


The ICC Chair of Sri Lanka, while introducing the Sri Lankan representatives to the ICC Secretary General of Switzerland and the Deputy Secretary General Emmanuelle Benitez de Roux, explained the role of ICC of Sri Lanka in promoting capabilities and competencies of Sri Lankan industries to global business environment, in particular Sri Lankan capabilities in the area of IT and manufacturing.

Sri Lanka's IT environment has supported BPO and KPO operations from the country, which are complemented with the presence of qualified accountants, legal professionals and IT literate population. European companies could benefit immensely by outsourcing such services from Sri Lanka.

Secretary General Pletscher, while noting the promising business opportunities, highlighted the importance of data protection and vital legislative requirements. The ICC Switzerland can facilitate by providing useful information in this regard to ICC Sri Lanka. The UK data piracy law can be a guide line for this purpose.

Ambassador Kumararatne highlighted the opportunities available in Sri Lanka for businesses as a manufacturing and services hub which is complemented by highly qualified and literate labour force and enabling business environment. Access to neighbouring markets such as India and Pakistan through the existing FTAs would provide further opportunities for Swiss entrepreneurs. The current economic and political environment in the country would further facilitate to strengthen such business engagements. Sri Lanka as pioneering party to GATT and its successor WTO is committed to rule based trading environment.

Munasinghe highlighted the upcoming project, the Sri Lanka Cultural, Trade and Food Festival, which is to take place from 9 to 11 September. Cantonal Presidents from all 14 Cantons, high-rank officers from Canton Zurich, Ambassadors and Consul Generals from 77 countries are expected at this event. This will provide a great opportunity for Switzerland to enjoy a taste of Sri Lanka. The ICC Switzerland will extend all possible cooperation for the success of this event.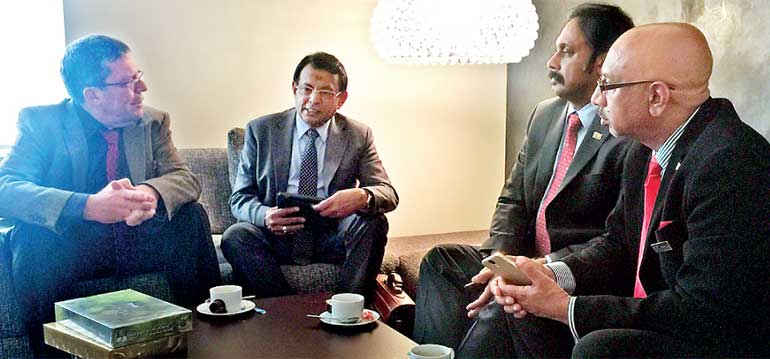 From left: ICC Switzerland Secretary General Thomas Pletscher, Sri Lankan Trade Ambassador/PR of Sri Lanka to the WTO R.D.S.Kumararatne, Honorary Consul General for Sri Lanka in Switzerland Vidarshana Munasinghe and ICC Sri Lanka Chairman Keerthi Gunawardane