Dr. Indunil Liyanage, Chief Marketing Officer of Bank of Ceylon, Sri Lanka's No. 1 bank and Asia's Best Brand, has been honoured with the 'Most Influential Marketing Leaders Listing' at the World Marketing Congress 2015 in Mumbai, India in the presence of a distinguished gathering.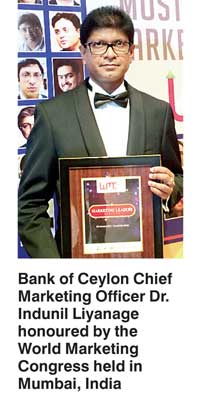 This prestigious award ceremony was held on the second day of the World Marketing Congress (WMC) at Taj Lands End Hotel, Mumbai, India on 27 November. This recognition was awarded as a part of Global Marketing Excellence Awards conducted by World Marketing Congress 2015. Broad parameters were adopted for selection such as Marketing Competencies (Academic/Professional achievements and adaptation), Strategic Perspective and Future Orientation, Track Record, Integrity and Ethics, and Commitment to Sustainability (Business, Social and Environmental). This year's theme of the World Marketing Congress was 'If Not Now, When'.

Dr. Indunil Liyanage counts over 25 years of marketing experience in combination of fast moving consumer goods (FMCG), electronics, agriculture and financial services industry in Sri Lanka. Throughout his marketing career he has built several key international and local brands/ products in the country. He has held senior positions in multinationals and local organisations in the capacity of Product/Brand Manager, Marketing Manager, Assistant Vice President – Head of Marketing positions and currently he is a member of the Bank of Ceylon Corporate Management team.

This international award recognises his impressive career record, academic and professional achievements. His career experience covers many organisations including private and public sector since 1989. He earned his Doctor of Philosophy (PhD) from the Faculty of Graduate Studies (FGS), University of Colombo, Sri Lanka. Dr. Liyanage holds a Master of Science (MSc) in Management from the University of Sri Jayawardenapura, Sri Lanka. Also holds a Postgraduate Diploma in Marketing from the Chartered Institute of Marketing UK.

He is a Chartered Marketer since 1997 attached to the first batch of Chartered Marketers in Sri Lanka. He was awarded the Fellowship (FCIM) of the Chartered Institute of Marketing (U.K) and the Fellowship (FSLIM) of the Sri Lanka Institute of Marketing (SLIM) for his outstanding contribution made to the marketing profession in Sri Lanka.

Dr. Liyanage is a member of the Chartered Institute of Marketing (UK) since 1995 and member of Alumni Associations of the University of Sri Jayawardenapura, University of Colombo and Faculty of Graduate Studies of University of Colombo. He was the first Sri Lankan selected for 'Intercultural Education for Global Managers' program at the Japan America Institute of Management Science (JAIMS) in Hawaii, USA. He was awarded a full scholarship by the Fujitsu Foundation of Japan to complete this programme, in recognition of his academic excellence and potential contribution to international understanding and goodwill in 1996.

Dr. Liyanage has been honoured with the '50 Most Talented CMOs Award' at the Golden Globe Tiger Awards 2013 at the World Marketing Summit (WMS) held at Putrajaya International Convention (PICC), Kuala Lumpur, Malaysia in 2013. He has participated in many international training programmes including Strategic Management Executive programme which was held at the National University of Singapore (NUS) in 2009.