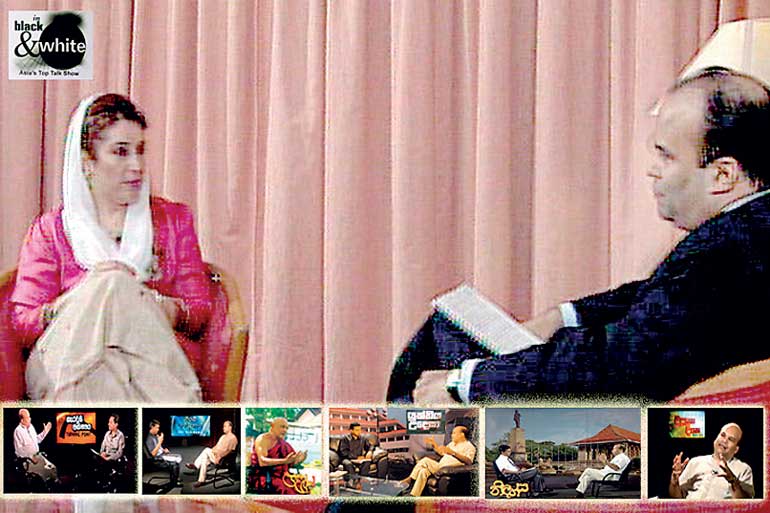 A special documentary entitled 'Abhimana' – A 15-year journey with Sirasa will be broadcast on Sirasa TV on Saturday 21 November at 10:30 p.m.

This hour-long program will provide a retrospective of the wide array of public affairs programs created and presented by Milinda Moragoda over his 15-year association with Sirasa/MTV television and radio.

The documentary was filmed on location on the Kelani River and the Kelaniya Raja Viharaya and will feature clips from his programs.

It will also include reminiscences of a procession of well-known TV and radio personalities Chandana Sooriya Bandara, Kingsley Ratnayake, S.M. Marikkar, Asoka Dias and Nihal Wickrema Edirisuriya, who each collaborated on past programs.

Milinda's association began back in 1999 with his landmark TV talk show In Black and White, which featured such eminent guests as Prime Ministers Mahathir Mohamad, Benazir Bhutto, Thaksin Shinawatra, I.K. Gujral, and New York Times Columnist, Thomas Friedman.

In Black & White went on to be rebroadcast by Channel News Asia in Asia and the Middle East. It was the first Sri Lankan program to be syndicated internationally. In Black and White was also one of the earliest Sri Lankan TV programs to utilise IT to broadcast an international video interview (with James Wolfenssohn, former President of the World Bank). Several of the most important In Black and White interviews were subtitled in Sinhala and Tamil and aired on Sirasa and Shakthi TV. Transcripts of the interviews were also carried in the print media. Obey Wedikawa and Gamin Gamata were two of the programs which pioneered the format of Town-Hall discussions with citizens, a format much popular on TV today. Obey Wedikawa/Face the Nation featured discussions with different groups of citizens such as war veterans, families of the missing both in the North and the South, military personnel, and a symbolic discussion on the lawn of the Jaffna Library with war widows. Gamin Gamata (Village to Village) took Milinda all over the island to engage with local citizens in remote areas to bring their problems and concerns to light.

Urumayake Ulpatha (Source of our Heritage) was the first program of its kind, consisting of a series of one-on-one interviews with eminent Sri Lankan religious and spiritual leaders. Commanding Heights brought to a Sinhala-speaking audience the much lauded documentary series on the economic history of the 20th century created by Pulitzer-Prize-winning author and Economist Daniel Yergin.

Aired over several programs, the documentary was followed by discussions placing these issues in a more specific Sri Lankan context with special emphasis on the importance of economic reforms for Sri Lanka.

Radio programs Sanvada (Discourse) and Jana Sabhawa (People's Forum) which were live call-in programs took the Town Hall concept to the radio. Citizens were able to air their grievances and ask questions on key policy issues.

Nidahasa (Independence) looked at facets of Post-Independence Sri Lanka and Yukthiya Udesa (Towards Justice) examined the justice system from a citizen-centric point of view. Later programs Didulana Diyata (Shining World) discussed international developments and their relevance to Sri Lanka, with a particular focus on social and digital media. Programs featured events such as Wikileaks, The Arab Spring, and Social Media.

Milinda's present weekly program, Haravum Lakshya (Turning Point) recently aired its 140th show. On this program Milinda continues his discussion and commentary on current affairs. Many of the above programs are available on You Tube, and on Miinda's website milinda.org and Facebook page.