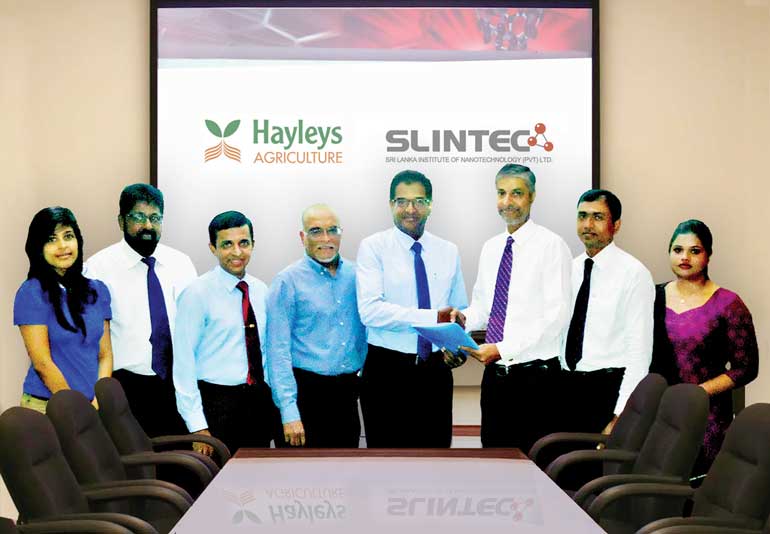 Hayleys Agriculture Managing Director Rizvi Zaheed (fifth from left) exchanges the signed agreement with SLINTEC Chief Executive Officer Harin de Silva Wijeyeratne on 19 October. Also present at the signing of the agreement from left: SLINTEC Executive Business Development Rashmi Wijekoon, Hayleys Agriculture Holdings Director S. M. Gamage, Science Team leader Prof. Nalin de Silva, SLINTEC Chief of Research and Innovation Prof. Gehan Amarathunga, Hayleys Agriculture Holdings Deputy General Manager Priyantha Ihalakodippili and R&D Executive Razmina Razick
The Sri Lankan Institute of Nanotechnology (SLINTEC) has signed a research agreement with Hayleys Agriculture Holdings Ltd. to develop a nano-scale fungicide. The research will focus on addressing some of the fundamental limitations with the existing product due to high dosage requirements, low efficacy, poor dispersability and stability.

SLINTEC is a public-private partnership between the Government of Sri Lanka and some of the most prominent names in the private sector; namely MAS Holdings, Brandix, Dialog, Hayleys, Loadstar and Lankem. SLINTEC's main directives are focused on developing the product base of local industries, making them viable in international markets with the help of nanotechnology and other advanced technologies.

Hayleys PLC is a multinational conglomerate which is diversified throughout seven broad segments and accounts for 2.73% of Sri Lanka's total export income.

Transcending the unique position through its wide portfolio of products and services, the agriculture arm of Hayleys PLC has been spearheading the Agricultural sector in Sri Lanka since 1950's. As a socially responsible corporate citizen Hayleys Agriculture supports the local agriculture communities by sharing this knowledge free of charge through a range of R&D and farmer training initiatives whilst constantly innovating and promoting better use of technology and agricultural practices.

Hayleys Agriculture has also partnered with SLINTEC for nano-fertiliser development and commercialisation, which is currently going through field trials in collaboration with the Department of Agriculture.