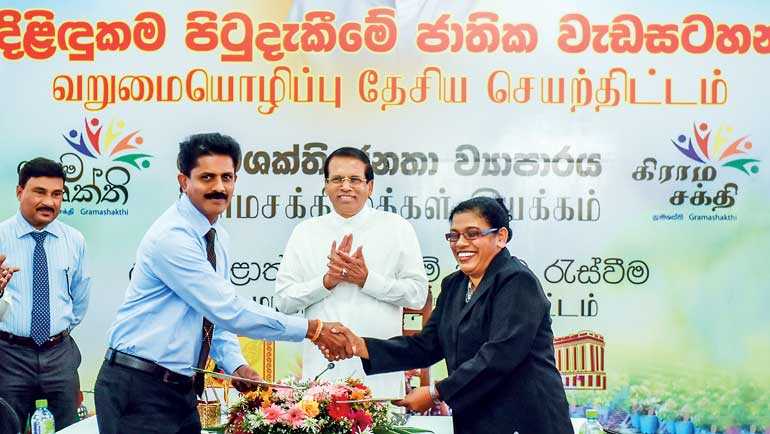 A Memorandum of Understanding was signed between the Flower Growers' Association of the Uva province and Hayleys Company ensuring that the company will constantly purchase flowers from the growers at a steady price and that the company will provide the farmers with modern technology and equipment to increase the quality of flowers. The farmer association of ornamental flowers produce flowers of high quality for local and international markets with the assistance of Hayleys Company in Welimada, Uva Paranagama, and Haputhale Divisional Secretariats in the Badulla District.

This agreement was signed in the presence of President Maithripala Sirisena at the Provincial Steering Committee Meeting on the 'Gramashakthi' program in Badulla on 21 May.

The first instalment of the state's share for the implementation of Gramashakthi movement in Badulla (Rs. 22.5 million) and Monaragala (Rs. 16.5 million) Districts was also handed over by the President to the respective District Secretaries at this progress review.

Gramashakthi, which is a concept of President Sirisena, is one of the key initiatives implemented to eradicate poverty. Instead of being a program that brought people and the state together in the attempt to eradicate poverty as in most programs implemented hitherto, Gramashakthi People's Movement brings together people, public and private sectors as essential stakeholders of poverty eradication. The aim is to ensure that the produce of the people constantly gets a better price, and access new markets while bringing in new technology. The movement help people to get organised into people's companies in order for them to negotiate with large private sector organisations on equal terms. Gramashakthi is implemented island-wide while districts with higher incidence of poverty are prioritised. The movement will cover 1,000 villages in its first phase and scale up to 5,000 villages by the year 2020.