Since its establishment just over 50 years ago with the planting of 68 seedlings on the Nakiyadeniya estate – managed today by Watawala Plantations PLC – oil palm has played an increasingly important role in the Sri Lankan plantation sector.

Oil palm has substantially supplemented revenue, generating export earnings and conserving valuable foreign reserves through import substitution on edible oils, while drastically improving the livelihoods of communities on and around the estate.

Oil palm is currently the most productive plantation crop known to man, covering just 2% of total cultivated land globally, yet accounting for 35% of the world's total vegetable oil requirement. Moreover, it is also considered as the single-most versatile plant oil given its ubiquitous applications in everything from toothpaste, to soap, lotions, shampoos and beauty products to pharmaceutical preparations, food and beverages such as biscuits, sweets, chocolates and fried foods.

Globally, human consumption of palm oil is also by no means a recent development, with evidence of its cultivation and use stretching back 5,000 years in Africa. Harvested all year round, oil palm trees produce on average 10 tonnes of fruit per hectare – far more than soya, rapeseed and sunflower crops.

This means oil palm requires 10 times less land than the other three major oil producing crops, soya, rapeseed and sunflower. In addition to the 3.74 tonnes of palm oil per hectare, 0.4 tonnes of palm kernel oil and 0.4 tonnes of palm kernel cake are also produced from the fresh fruit bunches (FFB).

With the advent of advanced scientific and manufacturing capabilities throughout the 1980s, the global applications of oil palm multiplied exponentially. This too is a result of the unique chemical structure and composition of palm oil. A semisolid at room temperature, palm oil and palm kernel oil are among the world's most versatile raw materials.

In Sri Lanka over the past half century, oil palm cultivation expanded as more Regional Plantation Companies (RPCs) followed the lead of Watawala Plantations. Large-scale investments were made to lay the foundations for this potentially game-changing crop including the establishment of nurseries, importation of seeds and preparation of uneconomical rubber land for gradual replacement with oil palm.

Formal discussions between the Government and industry stakeholders were revived in 2010, following the completion of research into the long-term impact of oil palm cultivation on the environment and community in Nakiyadeniya and Talgaswella estates which found that there had been no discernable negative impacts to the environment or surrounding communities as a result of oil palm cultivation.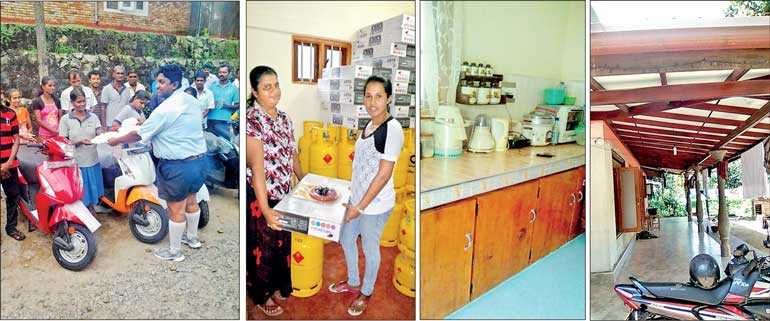 An industry that was gearing for take-off

In interim, the economic argument for cultivation of sustainable oil palm has only grown stronger as demand and prices of palm oil steadily rose. Those RPCs with the resources available at the time began intensive planning for the sustainable establishment of new oil palm plantations.

Proactive investments into pilot projects soon began to yield highly promising returns. Joint ventures were established to establish and improve on basic processing capacity and soon other RPCs had commenced their own small-scale oil palm plantations.

By 2016, the Government had given RPCs the green light to commence import of oil palm seeds, and investments of nearly Rs. 500 million were accordingly committed by RPCs seeking to align themselves with the Government's stated plan to increase the cultivated extent of oil palm from 3,157 Ha up to a total of 20,000 Ha.

As at 2018, these RPC oil palm plantations, which currently span an extent of 3,536.00 Ha, generated a collective revenue of Rs. 2.03 billion, as compared with rubber which generated Rs. 107 million and Tea which accounted for of total RPC revenue in 2018.

The potential benefit for the Sri Lankan economy emerging from the continued expansion of oil palm plantations was to be unprecedented – potentially sparking the same kind of rural revitalisation for which the Sri Lanka's garment and apparel industry had once achieved while providing much needed support to the country's macroeconomic fundamentals.

Hence relying on assurances of continuous Government support for their efforts, RPCs committed a further collective investment of Rs. 500 million towards the importation of new seeds and planting material.


Three steps forward, five steps back: emotion trumps science

Unfortunately, the announcement of plans to expand oil palm cultivation through the replacement of unproductive rubber land – by all accounts the most straightforward and efficacious solution to the challenges facing the plantation industry – gave rise to a malicious and intensive campaign of misinformation aimed at crippling this burgeoning sector in the Sri Lankan plantation economy.

Among the most frequently deployed tactics was the drawing of false and disingenuous equivalencies between the establishment of oil palm plantations in Sri Lanka and deforestation caused by the establishment of oil palm plantations in Indonesia and Malaysia.

Emotional pleas were made in local media, citing the loss of orangutan habitats as more evidence of why oil palm should not be allowed in Sri Lanka. Such appeals were of course patently absurd given firstly that orangutans are endemic to Indonesia and so their habitat loss while tragedy, has no connection to the Sri Lankan industry and for which our industry has no responsibility for.

Moreover, not a single Sri Lankan RPC has to date encroached upon a single inch of virgin forest in the establishment and expansion of their oil palm plantations. This was accomplished by instead phasing out unproductive rubber plantations. Crucially, this is land which was already under cultivation. If the biggest challenge around oil palm is deforestation, then Sri Lankan RPCs have solved this challenge with ease.

The oil palm plant was also subjected to a variety of other accusations in local media. These run the gamut from causing droughts to floods, causing loss of flora and fauna to increases in reptile populations, depletion of ground water, increase in landslides and even causing stray dogs which ate the oil palm fruit to lose their fur.

Numerous scientific studies were dutifully carried out by reputed experts from academia and the industry, and within short order a veritable mountain of scientific evidence was gathered which clearly proved beyond of a shadow of a doubt that there was no truth to these allegations.

Oil palm plants are still just plants at the end of the day, and do not behave radically different to other plantation crops. If cultivated within the stringent guidelines already in place, they are not capable of creating any of these issues any more than tea, rubber, or coconut plantations could.

A typical mature oil palm plant requires 249 litres of water per plant, where coconut requires 130 litres and rubber consumes 63 litres. However, the requirement per plant must also be balanced against the fact that oil palm requires a significantly smaller number of plants per hectare than coconut, rubber or tea.

To get a true picture of the consumption of water resources, we must therefore analyse these crops in terms of daily water requirement per hectare. Coconut requires 20,800 litres per hectare per day while rubber requires 31,500 litres and oil palm, slightly more with 34,860 litres per hectare per day.

With the proper guidelines in place in relation to best agronomic and ecological practices, all objective experts agreed that oil palm can easily be cultivated in a manner that is totally sustainable – economically, environmentally and socially.

With the proper guidelines in place in relation to best agronomic and ecological practices, all objective experts agreed that oil palm can easily be cultivated in a manner that is totally sustainable – economically, environmentally and socially.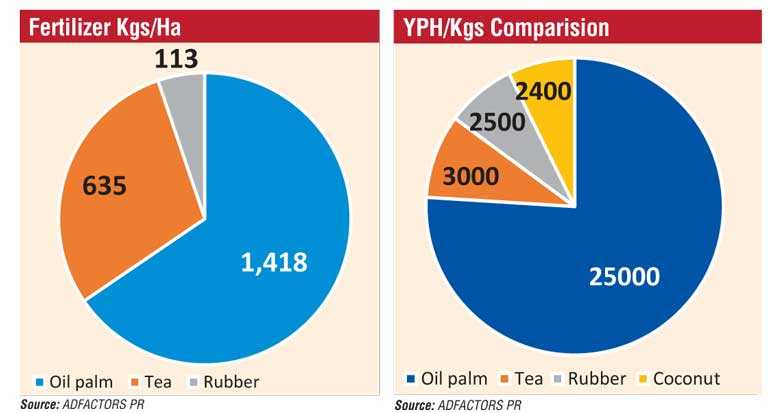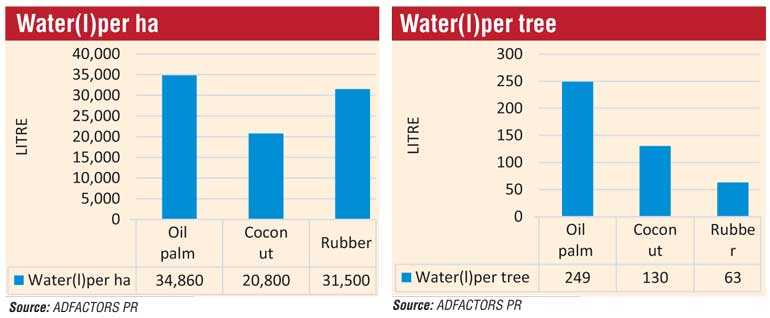 Monitoring of soil erosion

Sri Lankan politics and policymaking being what it is, all of these facts were promptly disregarded when the Central Environmental Authority's (CEA) committee to study the impact of oil palm cultivation disregarded all scientific and academic norms and data by publishing a report which recommended the halting of all oil palm cultivation on the grounds that it "had a detrimental impact to the environment" without advancing even a single shred of evidence to justify its claim.

The report was roundly criticised and rejected by industry stakeholder. The Ministry of Plantation Industries rejected the report on the grounds that its conclusions were not formed unanimously. Both the Coconut Research Institute and the Plantation Management Institute condemned the report for its total absence of scientific rigor.

These complaints have largely fallen on deaf ears despite the Plantations Ministry itself taking a clear stand against the CEA report. As a result, the industry is once again thrown into crisis due to the total detachment of policy making from reality. It is crucial to note that detachment only commenced when policymakers began to ignore the objective scientific data.

In the meantime, RPCs that were encouraged by both the previous and current Governments to commit to substantial investments for the expansion of oil palm are now being forced by the very same Government that encouraged them to invest to instead absorb the complete and pointless ruin of Rs. 500 million worth of oil palm seedlings.

Within a few short months, these seedlings will waste away in nurseries, entirely disrupting long-term plans for the sustainability of Sri Lanka's oil palm plantations without even the slightest acknowledgement or factual justification being offered for this catastrophic policy decision.

The Planters' Association of Ceylon and various other RPC and industry stakeholders have repeatedly called on anyone – be they a Government minister or other public or even private figure – who has a provable allegation against oil palm cultivation to step forward and state their case clearly and have it debated publicly and transparently in order to finally lay this debate to rest. To date, none have come forward.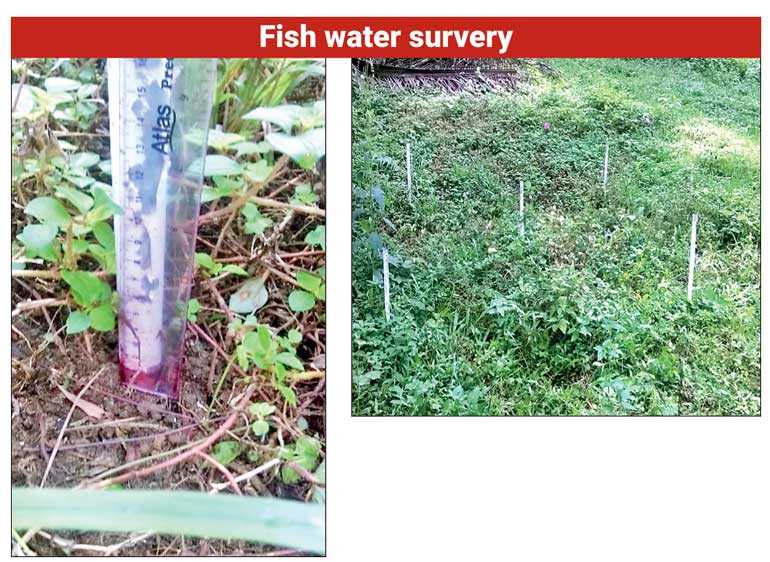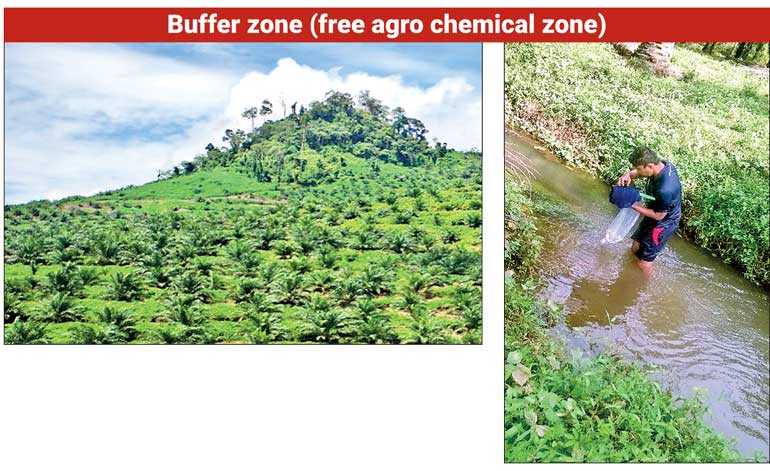 The unapologetic case for expansion of sustainable oil palm

Given the desperate plight of the industry today and the looming disaster it faces when RPC oil palm seedlings wither in the nurseries due to the extra-legal prohibition placed on further planting, it falls to the PA to once again restate the case for reviving the expansion of oil palm plantations in Sri Lanka on an urgent basis. Our argument begins and ends with sustainability.

Collectively the global palm oil market's value is projected to continue to expand from $ 65.7 billion up to $ 92.8 billion by the year 2021, hence stable prices are much more assured. These are dynamics which are lacking in Sri Lanka's other plantation crops, and which hold the potential to create economic sustainability for the plantation sector as a whole.

In 2018, Sri Lanka's total import bill for edible oils was estimated to be in excess of Rs. 30 billion. Sri Lanka's locally manufactured coconut oil is primarily utilised for domestic consumption yet in 2018, Sri Lanka's coconut oil production showed a marked decline of 13.8% Year-on-Year, while oil imports increased by 9.4% YoY. Of this imports, 87.5% consisted of palm oil which. This represents an immense economic opportunity which we cannot afford to neglect any further.

The average earnings for an employee harvesting oil palm stands at approximately Rs. 45,000 per month, where in rubber tapping, earnings are estimated at Rs.15,000 per month and Rs. 16,000 in tea.

While there must always be a place saved for Sri Lanka's traditional cash crops, the industry must also adapt to market and economic realities. Moreover, it is owed to the employees to provide them with work that has the most potential to improve their livelihoods.

At present, Indonesia is the world's largest producer of palm oil while Indonesia is the largest exporter, however as awareness on the environmentally unsound practices followed in those nations, smaller nations like Sri Lanka have an unprecedented opportunity to offer a valuable alternative to international markets in the form of sustainably cultivated oil palm.

This represents an immense opportunity to showcase Sri Lanka as a leader in environmentally sustainable plantations and a global pioneer in sustainable oil palm. In order to make such a vision a reality, the Rs. 500 million seedling crisis must be resolved immediately.