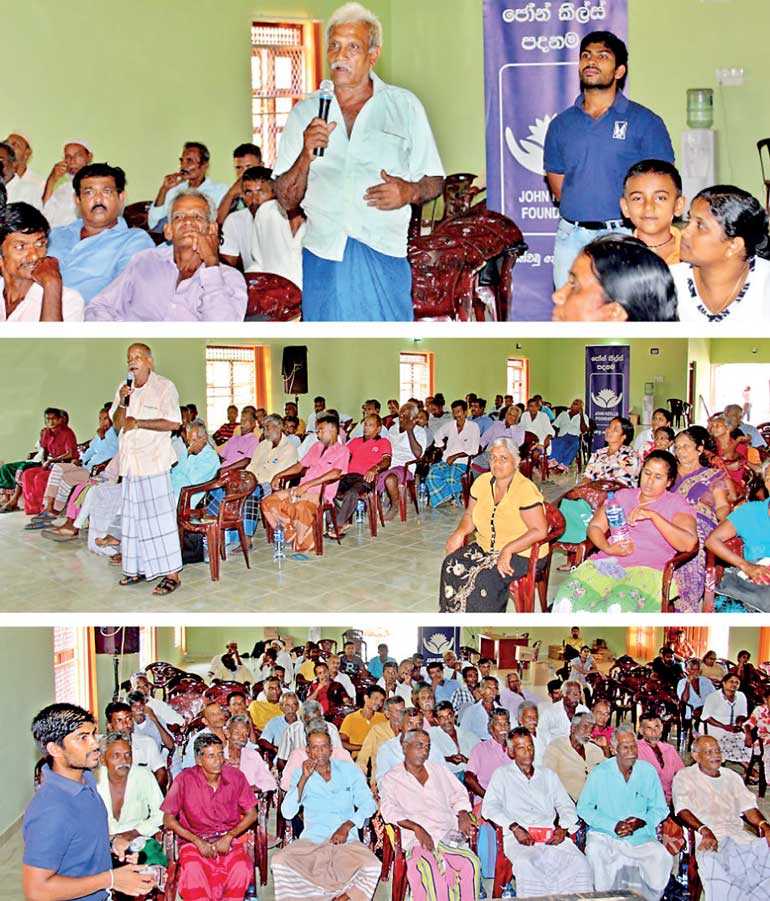 Initiative of John Keells Foundation in collaboration with World Vision Lanka and Morawewa Irrigation Project Management Office
John Keells Foundation organised a 'Govi Hamuwa' for the benefit of farmer organisations of the Morawewa DS Division in collaboration with Morawewa Irrigation Project Management Office (Morawewa Major Irrigation Projects) and World Vision Lanka on 19 April.

This initiative was organised under the village adoption project of Livelihood Development focus area with the aim of poverty alleviation at village level through sustainable and integrated development programmes for all communities, planned and implemented in collaboration with relevant stakeholders with the aim of empowering the nation for tomorrow.

John Keells Foundation, the corporate social responsibility entity of the John Keells Group has been working in Morawewa North in collaboration with World Vision Lanka supporting the lives and livelihoods of the villagers since 2014.

Addressing the gathering and explaining the objective of the session,

John Keells Group's Jaykay Marketing Services Ltd. Retail Sector Head and CEO and Village Adoption Project Champion Charitha Subasinghe noted: "Since the area is known for water scarcity, 'Govi Hamuwa' was organised to introduce cash crops which require less water for cultivation as well as to facilitate market linkages with potential buyers. We hope to uplift their livelihoods and empower them to build and develop themselves and their communities in a sustainable and entrepreneurial manner."

The 'Govi Hamuwa' was attended by 72 farmers from 11 farmer organisations. Government officials as well as officials representing John Keells Group brands such as Elephant House and Keells Super as well as Ceylon Biscuits Ltd., CIC Agri Business and Prima Ceylon Ltd. were present at the forum to educate the farmers.

The forum concluded with a panel discussion that discussed various aspects of cultivation including fruit and vegetable cultivation, maize cultivation, groundnut cultivation and quality standards of post harvesting providing the farmers with valuable insights and information.